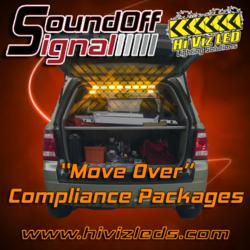 It's about safety and responsibility. The law requires drivers to perform a safety courtesy they should already practice. It also holds emergency vehicle and utility service vehicle owners liable for negligence. (Sam Massa - HiViz LEDs owner)
Raleigh, NC (PRWEB) October 17, 2012
North Carolina's new Move Over Law, which was passed in June of 2012, took effect as of October 1, 2012. In addition to requiring that drivers move over or slow down as they approach emergency or utility service vehicles, the law requires those vehicles to have amber flashing lights or the owners and operators of the vehicles can be held negligent if an accident occurs. Vehicle owners and operators are rushing to comply with the new law. HiViz LEDs, a NC leader and innovator in LED lighting solutions for emergency, fire, rescue, and utility markets is helping get the word out by educating vehicle owners and by providing superior and cost effective flashing light solutions.
"This is about risk management and it helps keep our employees more safe", says Ray Jackson, Environmental Compliance Specialist for Fayetteville's Public Works Commission (PWC). "This builds on existing OSHA law 1910.132 which simply says that if you cannot remove a hazard, then you have to issue personal safety equipment, such as gloves, reflective hiviz vests, helmets, and scene lighting."
"Emergency and Utility Maintenance scenes are intrinsically hazardous because they are located near moving traffic", offers firefighter and HiViz LEDs business owner, Sam Massa. "The is made worse due to the darkness of night and the noise of generator equipment required to run traditional lighting". Hiviz LEDs is a provider of LED lighting solutions to the emergency, fire, rescue and utility service markets. LED lighting solutions can operate on AC or DC (battery) power thus providing long-lasting light without the generator noise or cost.
"Since our trucks are in or near the roadway facing every which direction, you have to provide 360 protection" says Jackson. "That means you have to have flashing lights on your vehicle on front, rear, and sides."
"In the emergency market the lights and sirens have need to be heard or seen from 1,000 feet" says James Christopher, Manager of Dealer Development for HiViz LEDs. "The NC Move Over Law makes no specification for the amber lights. However, there are some things experts recommend to enhance visibility".
"Federal Signal did a study years ago which showed that a clear light is the first light that the human eye can recognize. That's why police cars have headlights that flash" says Jackson. "The white light get's your attention. The blue light communicates for you to give right of way and pull over" He adds, "In this case for emergency or utility maintenance vehicles, the amber light informs you to 'proceed with caution'. Incorporating both white and amber flashing lights is a best practice that I recommend vehicle owners implement."
Jackson makes one final point, "Lighting is all about employee safety, getting them recognized, getting our equipment easily identified, and illuminating the work zone."
Massa adds, "HiViz LEDs mission is to bring high quality LED lighting solutions to markets where visibility is key to meeting deadlines, overcoming obstacles, and being safe. That's why we provide not only lights on vehicles, but we ensure those brow lights, scene lights, or flashing lights put the light on the target."
HiViz LEDs is located in Lillington, NC and is owned and operated by firefighter, Sam Massa, and his staff. HiViz LEDs offers a complete range of lighting solutions proven on the fire ground referred to as the FireTech lighting solutions. These include low profile Brow Lights, scene lights, apparatus work lights, self-contained emergency response kits, compartment lights and handheld lighting solutions. All lights except the compartment lights carry a lifetime warranty. HiViz LEDs also carries a full range of flashing emergency response lights for fire, rescue, ambulance, police, first responders, and utility service vehicles. For more information about how the FireTech lighting solutions can be implemented on your fleet, please contact HiViz LEDs by emailing sales(at)hivizleds(dot)com or calling the office at 703-662-3458.