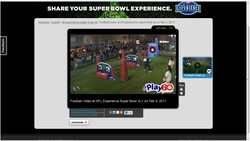 Dallas, TX (PRWEB) February 24, 2011
The company has developed a technology to capture videos and photos of NFL Experience attendees, all at no cost to the consumer, which can be easily retrieved on the Moverati website. Consumers can then share their photos and videos with friends, family and co-workers. The NFL and Moverati has cameras set up at several events in the NFL Experience, including the Lombardi Trophy, Play 60 field games, and the Under Armour Run to Daylight 40 yard dash.
President Josh Whitaker has been in the sports industry for years, heading marketing efforts for KTM North America and Red Bull North America.
With social networking at the forefront of business marketing, Whitaker is leading an effort to allow people to videos at sporting events where capturing a video may not have been possible. The videos are giving companies like Under Armour, EA Sports, and the NFL opportunities to have branding on the thousands of videos being shared by Moverati users.
The videos are automatically available via web, so the consumer can share their experience via mobile phone as the action is happening.
###