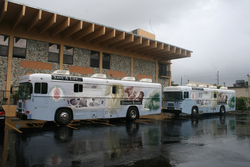 We all expect there to be plenty of blood there for us, but there are very few folks that normally donate
Fort Lauderdale, FL (Vocus) March 4, 2010
In one day, more than fifty of movingcost.com staff members came out to do their part. There was so much blood being donated, the company had two trucks parked in front of the Fort Lauderdale headquarters. Guys and girls, sales assistants and regional managers, as well as the owner, all stepped forward to help. As always, the giant company and its entire team were proud to take part in charitable acts for the general public.
"We all expect there to be plenty of blood there for us, but there are very few folks that normally donate," said Todd McFliker, movingcost.com Public Relations Representative. "As a South Florida based company, we felt it was our duty to do what ever we could to assist people in need. At the suggestion of one of our sales representatives, John Young, we decided to host a blood drive, as well as donate money and supplies. With more than 80 employees donating blood, we knew it was the right thing to do. Now when over 1,000 folks a day are in dire need of blood for surgery, premature babies, cancer treatment, or hundreds of other reasons, movingcost.com will be here for them."
In case you're wondering exactly who can contribute to the cause, anyone who's in good health, at least 17 years old, and at least 100 pounds may donate blood every two months. In fact, 4.5 million lives are saved each year in America thanks to the 38,000 pints of donated blood used each day. Every 1.3 seconds in this country, someone needs blood. Virtually all of us will face a time of vulnerability and require donated blood. The human body carries an average of 10 pints of blood. Yet, only 5% of the U.S. population donates.
"We are extremely proud that our team donated so much blood to help those in need throughout the community," said Steve Young, Computer Technician at Movingcost.com. "One generous donation may save up to three of our neighbors' lives."
For the caring company's charitable act, Movingcost.com worked with Community Blood Centers of South Florida. The CBCSF is a non-profit, all voluntary blood collection agency that collects over 220,000 pints of blood and blood products for hospital and kidney dialysis patients on a yearly basis. The company strives to save lives through research and education, in partnership with our community. CBCSF's groundbreaking research has greatly expanded the storage life of blood components, reduced blood shortages, and added years to tens of thousands of patients' lives. With sixteen different donor centers, and three dozen bloodmobiles travelling throughout the area, the CBCSF is making a difference in the community with high quality blood and blood banking services.
"Here at Movingcost.com, we had a great turnout with donating blood to those in need," said Christie Davis, Senior Sales Executive. "I'm glad we all had the chance to give back to the community. My brother once needed 9 pints of blood after a serious accident, so it's rewarding to get to give back. It's also refreshing to work for a company that gets involved with helping others."
Blood usage continues to increase each year, causing a significant and ongoing need for people to donate blood. There are many folks that need transfusions, from car accident victims to cancer patients. "The overwhelming response of our employees was so great that the South Florida Blood Bank had to bring two buses to be able to handle all of the volunteers," explained McFliker. "Every employee walked away knowing that they helped save someone's life and i even noticed some of our employees registering themselves to a national donator registry that assists children with diseases, such as leukemia and sickle cell anemia". Movingcost.com's blood drive was an overwhelming success.
"I wanted to thank each and every one of you who donated blood. Donating blood is such a special gift of life," said Sam Elliot Managing Director of Movingcost.com,"It is an element that only one human can give to another, no one can manufacture this gift of life."
# # #