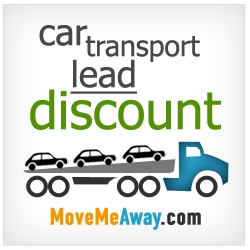 We hope that car transporters will start taking advantage of this great deal during the winter months, when they need it most!
Toronto, Ontario (PRWEB) December 28, 2011
Car transporters are urged to take advantage of this great deal as soon as possible, as there are limited registration spots available for each region throughout the US and Canada. In order to ensure optimal service for their customers, as well as to ensure that their registered movers are in fair competition for the leads they receive, MoveMeAway.com only sends their leads to a maximum of 5 car transporters, and these spots are filling up very quickly.
As movers know all too well, business slows down in the winter months. Along with the inflated operational costs of any moving company, which has doubled in the past 10 years, winter adds to this an increase in the costs of gas and winterizing vehicles, as well as increased competition. Being affiliated with a reliable lead generation company enables moving companies and car transporters to greatly increase their ROI during the winter months, as MoveMeAway.com delivers customers directly to them, ready to buy their services. "We hope that movers will start taking advantage of this great deal during the winter months, when they need it most, and while we still have space for them!" says Melih Eroglu, CEO of MoveMeAway.com.
In addition to joining forces with a reliable lead generation company, there are several measures your company can take to make sure customers don't get cold feet when considering using your auto transport services during winter. MoveMeAway.com has gathered tips from some of their leading car transporters, as well as their experienced management team, to help auto transporters keep business jolly during the winter months:
1. Make reviews readily available on your website. Afraid of scams and unprofessional companies, consumers have a lot of skepticism in the trunk when they are looking to transport a car. Make sure that your company's website has a review portal they can find directly on your homepage (and, preferably, put one or two glowing reviews directly on the homepage itself). You should also, of course, have recommendations available to anyone who calls and inquires for them.
2. Inform potential consumers of your insurance policies. One of the most common questions that consumers ask when looking for a car transport company is "Is the value of my car insured?" Be sure to have your company's insurance policies readily available on your website.
3. Tell your customers about what steps you are taking to ensure safe transportation during winter. Assure your consumers that your vehicles are properly winterized, that your drivers have been instructed to drive at a slower pace during winter months, and inform them of any other precautions your company may be taking as part of your winter policy.
4. Make sure your potential customers know that you are registered and licensed. It may seem obvious, but many fraudulent companies or scams have forced consumers to be wary about who they choose to transport their car. Make your licensing and registration information plainly evident to any consumers visiting your site, to assure them you are a reliable, experienced mover.
The advantage of joining with MoveMeAway.com is that they have a strict policy about only allowing reputable, experienced movers to be registered on their site, so when consumers fill out an inquiry on MoveMeAway.com, they already know they will be connected with dependable, professional companies. Are you a dependable, reliable mover? You can become a trusted mover at MoveMeAway.com and start receiving car transport or moving leads in your area.
AboutMoveMeAway.com:
MoveMeAway.com connects relocation service providers with their potential customers. It generates quality moving leads and distributes them to reputable moving companies in the United States and Canada. They ease the process of relocation for consumers by allowing them to find multiple moving estimates from different reliable movers, at the click of the button. They also ease the process of moving for moving companies, as relevant leads are sent directly to them, with no need to advertise. MoveMeAway.com also offers free, practical information for individuals planning to move, helping consumers every step of the way along their moving process, from planning where to move to what to do once they've arrived to their destination.
For More Information Contact:
1 (888) 700-9048
info(at)movemeaway(dot)com
http://www.MoveMeAway.com
###