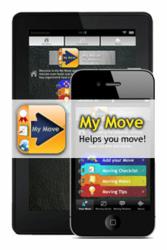 The best thing is that all My Move apps are completely free. Hire moving companies faster, get moving help easier and stay prepared.
Boston, MA (PRWEB) March 20, 2012
Now moving is ever so much easier. With the digitalization of the new smartphones and all the apps from games to utilities, now a set of extraordinary phone apps that use the movers database at http://www.mymovingreviews.com will make any move a breeze. Worth mentioning is the new My Move app for Android and Kindle Fire. Organizing a move on the go is what has been missing for a while. Now the time consuming moving company research, move preparation and organization can be done while going to work or in the spare time outside. Planning a relocation is now easier than ever.
Why is it so great? This new top app can be used anywhere – in the subway, on the train or even while walking outside. It is now so easy to check any question related to moving at any moment in time.
The top extras and advantages of the My Move app instantly:
1. Free moving costs calculation. See how much any moving will cost by asking professional moving companies for an approximate relocation cost estimate. After filling the free cost calculator, experts from licensed moving companies will give a feedback personally and will provide custom moving cost estimations tailored to the specific requirements and information given. Planning a moving budget in advance is an essential step of the moving preparation process.
2. Maintaining a moving checklist is easier than ever. Why use old-fashioned paper sheets for moving lists that are easily lost when there is a convenient phone app now? Writing ideas and questions about the moving process is just one click away with the moving notes on the go feature. The idea of this app is to make sure nobody will ever worry again about how to arrange and organize their moves.
3. Stay up to date with all the latest moving news, tips and guides is even easier. Important and useful information on the topic of movers is published every day and now everybody can follow it immediately on Google+, Twitter and Facebook to be the first to know. All moving tips and movers reviews are integrated in the My Move relocation application. Now it is also possible to browse directly the mobile website in order to look up a moving company profile and license information.
4. Furthermore, the inbuilt moving companies' database at http://www.mymovingreviews.com contains more than 1000 moving companies throughout all the US states. This is the biggest online database of professional movers available just one click away.
5. Besides locating movers by state, it is now possible to browse the latest reviews and explore everything about moving companies. Picking reliable moving companies based on solid information is what everybody needs when making the final decision. A lot of accurate information collectable is available on one place at http://www.mymovingreviews.com – easy to reach local or long distance movers, headquarters of the moving companies, their state of operation and much more.
6. Sharing moving companies' stories online is now fast and simple to do. Writing moving company reviews has never been so easy.
The best thing is that all My Move apps are completely free. Finding moving companies is now even faster and safer on iPhone or Android devices and on MyMovingReviews.com. As more data and feedback from people that have recently relocated is gathered, the mobile apps are constantly updated to provide complete support to help its users even more. Finding reliable moving companies is now a breeze.
But this is not everything! MyMovingReviews.com also offers complete information related to all the details of the move itself. It is now easy to learn useful information like tips for finding a reputable mover and discovering a cheap moving company that can still provide that same high-quality moving services. The contributing professional moving specialists have covered all the major aspects of an upcoming move like how to make sure a moving company is a trustworthy one, how to prepare for a moving, what important questions to ask the movers and even more! Now it is available in detail what to do when moving with kids and teenagers, how can one save money when moving; many relocation guides and moving checklists for how to make sure a particular moving company is licensed, how to move with plants or pets, and a lot more for free! Asking moving specialists with specific moving questions and receiving an answer in a matter of hours - it is now possible.
Take a look at these free phone applications now and enjoy all the extras available just one click away! Download the moving apps from here.