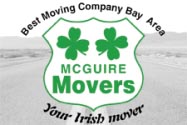 Moving is often said to be one of the most stressful experiences we through in our lives
San Francisco, CA (Vocus/PRWEB) March 26, 2011
McGuire Movers, a San Francisco mover, knows from their 15 years of experience with helping people move that it can be a hard time for many people. During the moving process, many people lose sleep and stress out about making a big life change. McGuire Movers offers some tips for making the process easier.
"Moving is often said to be one of the most stressful experiences we through in our lives," said Sean McGuire of McGuire Movers in San Francisco, "It really doesn't have to be. A successful move starts with solid planning and selecting the right movers."
McGuire Movers says that planning in advance helps. Start preparing eight weeks out by making a list of all the things that need to be done and checking them off as they are completed. This is a good time to make an appointment with a moving company, which will give families peace of mind from the knowledge that they don't need to worry about how their belongings will get to the new place.
An important way to avoid stress is to get rid of unnecessary clutter early in the moving process. Anything that doesn't need to come to the new place should be donated or discarded. People are often surprised by how much junk they have accumulated, and feel better when they clear it out.
McGuire Movers reminds people to take care of themselves during the moving process. Many people do not get enough sleep and start eating too much junk food. To keep stress levels down, make sure to get some rest, eat nutritious meals, and take frequent breaks from sorting and packing. Stopping packing for a little while to take a walk will lower stress, raise endorphins from exercise, and give people some quality time with the old neighborhood.
It's completely normal to feel a little bit sad about leaving the old place. People should take some time to say goodbye, and remember the good times they had there. The new place will take a little time to feel like "home," but eventually it will.
The big day is usually the hardest moment of all, but McGuire Movers makes it easy for families to get through the process. They will pack, transport and unpack customer's possessions and arrange everything where the customer wants them at the other end. Additionally, McGuire Movers will ensure belongings arrive to their new location in the same condition as where they were picked up. In the truck, furniture and appliances are padded during the transportation process.
"No other local San Francisco or Bay Are a mover can match our customer service, our prices or our dedication to getting your stuff moved safely and efficiently into your new home," said McGuire, "Our goal is alleviate the stress of the move, the stress on your wallet and the stress on your mind."
For more information about McGuire Movers' services, phone them at (415) 651-4386 or visit their website at: http://www.mcguiremovers.com. About McGuire Movers McGuire Movers is a licensed and insured San Francisco moving company that specializes in all types of moves: residential moving, office and commercial furniture moving, large and small. With over 15 years of experience moving in San Francisco, the San Francisco movers at McGuire combine experience and professionalism with the luck and charm of the Irish.
# # #