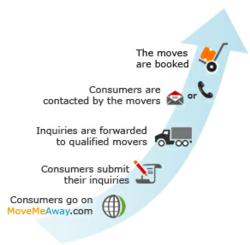 MoveMeAway.com's success is measured by satisfaction of both consumers and movers.
Toronto, ON (PRWEB) January 27, 2012
Just like moving, the New Year is a time for a fresh start, a time to start life anew with improved habits and conditions, and MoveMeAway.com is no exception. Toronto residents will be especially interested to know that equipped with 5 new registered Toronto movers in their network, MoveMeAway.com is ready and eager to answer all Torontonian moving needs. Toronto movers are also urged to sign up as soon possible, as spots are filing up fast. This is because, to ensure the best service to their consumers, MoveMeAway.com sends their leads to a maximum of 5 specially selected, quality movers, suited to the move in question.
Increasing the number of movers in their network isn't the only recent change at MoveMeAway.com. They have now gone to even greater lengths to satisfy their registered movers, making it even easier for movers to ensure they only pay for quality, desired leads. In addition to being able to use their mover's control panel to monitor their leads and evaluate their ROI, movers can now also use their control panel to instantly report leads that are not suitable for their business, so they can easily be reviewed and have credit issued.
As they also encourage others to do when moving, MoveMeAway.com has taken further efforts to promote eco-friendly consciousness and practices in the New Year. Revamping their already impressive efforts to "move the world green", they have released several new articles on green moving, including Dispose of Unused Items in a Green Way and Disposing of Electronics- Green Ways of Combating E-Waste. MoveMeAway.com offers a comprehensive variety of articles related to green moving and green living, including eco-friendly tips for transportation, packing, day-to-day living, and more. Follow MoveMeAway.com's lead and start your life in your new home with a green thumb and a clear conscience. All you have to do is fill out a quick inquiry form to be rapidly connected by up to 5 reliable movers today.
MoveMeAway.com connects relocation service providers with their potential customers. It generates quality moving leads and distributes them to reputable moving companies in the United States and Canada. They ease the process of relocation for consumers by allowing them to find multiple moving estimates from different reliable movers, at the click of the button. They also ease the process of moving for moving companies, as relevant leads are sent directly to them, with no need to advertise. MoveMeAway.com also offers free, practical information for individuals planning to move, helping consumers every step of the way along their moving process, from planning where to move to what to do once they've arrived to their destination.
For More Information Contact:
1 (888) 700-9048
info(at)movemeaway(dot)com
###