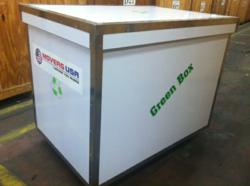 We commit ourselves to excellence as well as integrating new eco-friendly tools that will offer Movers USA's same great service at a better price. It is a win-win alternative to traditional boxes
Baltimore, MD (PRWEB) May 22, 2013
The top residential and commercial moving company in Maryland Movers USA is welcoming the 2013 moving season by unveiling their new innovative 'Green Box' for local moves, to join in the world's efforts to protect the environment by saving hundreds of disposable card boxes, packing tapes and other packing materials as well as saving the consumers time and money over traditional moving methods.
The innovative 'Green Box' is a heavy-duty 4'x3'x3' durable box on wheels that can safely holds up to forty small to medium size framed pictures or paints, up to three to four 37" or less flat screen TV's or computer screens, up to ten 4'x3' frames pictures or art or any combination. The box is made out of water resistance, strong and durable materials and has a secure lid that snaps into place to assure the items inside will remain safe and dry. Movers USA offers the box for rent on their local moves that require the transportation of pictures, paints and art and flat screens of any kinds. The new boxes allow Movers USA's local professional movers to work with greater efficiency and to avoid the waste of disposable materials.
One of the main reasons that Movers USA invested all their efforts in designing this great tool is to save time and money to their customers. "We commit ourselves to excellence as well as integrating new eco-friendly tools that will offer Movers USA's same great service at a better price. It is a win-win alternative to traditional boxes," says Movers USA's founder and President Gil Benshoushan, who is also the former chairman of the Maryland Movers Conference at the MMTA (MD Motor Truck Association). The 'Green Box' is also strong enough to hold regular boxes on top of it, this way Movers USA's professional stackers are able to stack regular boxes on top of the 'Green Box' and to fit more on the truck.
The addition of the new 'Green Boxes' comes at a time of great growth for Movers USA, along with the addition of three new trucks to their fleet. The new state-of-the-art trucks are environmental friendly, consume less fuel and cause less harm to the environment. The company can offer a solution to any move type in Maryland, DC and Virginia. Whether it is a residential or commercial local move or a long distance relocation to any state, Movers USA is the preferred choice for thousands of satisfied customers.
About Movers USA:
Movers USA is one of the most respected and recommended relocation van-line moving companies in the MD, DC, and VA areas. As professional movers in MD, Movers USA has a huge fleet of new trucks that can serve any relocation and moving needs. Whatever moving, packing, transport, storage or moving delivery needs are, Movers USA has highly trained relocation teams ready to provide superior moving services. Movers USA relocation van line is a fully licensed and insured relocating moving company in MD that offers local moving and interstate moving, residential moving and commercial moving van line services, long and short-term storage facility in climate-controlled storage facilities as well as transporting electronic equipment, trade show exhibits and displays, works of art, antiques, and specialized freight, in addition to household goods.