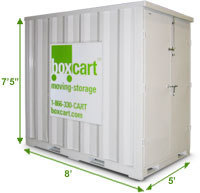 We are a very customer-oriented company and pride ourselves on delivering excellent service in an industry that typically falls short
Sterling, VA (PRWEB) July 2, 2009
BoxCart, a Northern Virginia moving & portable storage unit company, was voted "Best Moving Company" by readers of Northern Virginia Magazine. The announcement was made in the magazine's June 2009 issue.
BoxCart credited the award with their unwavering commitment to customer service. "We are a very customer-oriented company and pride ourselves on delivering excellent service in an industry that typically falls short," remarked BoxCart Vice President, Amy Stowell.
BoxCart offers local and long-distance professional moving services for Northern Virginia customers along with storage solutions, and portable storage units. The company assigns a personal move coordinator to handle the details of every move and offers its acclaimed Home Protection Services to protect the home, furniture, and belongings of their customers. For both home and business moves, BoxCart also offers a free onsite consultation and estimate from an AMSA Certified Moving Consultant.
In addition to the company's professional moving services, BoxCart's portable self-storage units have greatly contributed to the success of BoxCart with its Northern Virginia customers.
The benefits of BoxCart's mobile storage units include:

Ideally-sized 5' x 8' portable storage units fit in a standard parking space and allow customers to separate items into smaller units for easy retrieval without wasted space. (Larger units are also available.)
Portable self-storage units made of weatherproof steel, instead of fiberglass or wood.
Portable self-storage units delivered to the customer and stored either on the customer's site or at the BoxCart storage facility.
A state-of-the-art storage facility which is 100% air-conditioned, heated, and humidity-controlled 24/7, unlike traditional "climate-controlled" storage facilities.
BoxCart serves Northern Virginia , Washington, DC, and Montgomery County, Maryland. Visit http://www.boxcart.com to receive a free moving quote or to obtain mobile storage unit pricing.
###