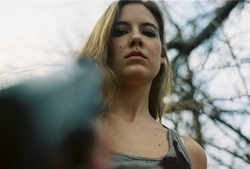 It's always nice to see someone do something a bit different with the genre and this is certainly the case for 'The Sky Has Fallen.'
Springfield, MO (PRWEB) March 30, 2010
This week indie filmmaker Doug Roos releases his award-winning new feature "The Sky Has Fallen." Shot entirely in Missouri with a score recorded live in New York, the dark post-apocalyptic picture proves you don't need to go to LA to make movies or to sell them. The writer/director is following in the footsteps of "The Blair Witch Project" and using the internet as a platform to launch the film.
"With all the inexpensive advertising options out there, independent filmmakers have more freedom than ever before especially when it comes to self-distribution," said Roos. "Of course, you always hope for a good offer from a distributor, but knowing how rare that can be, I decided to release the project myself through the film's website and Amazon.com. The film's success on the festival circuit made it clear there was an audience for it."
The horror movie won Best Feature at the 2009 Freak Show Horror Film Festival, and it won Best Horror Feature at the 2009 Indie Gathering International Film Festival. It was also nominated for Best Score at the 2009 British Film Festival LA. Reviews for the movie have been positive as well.
"It's always nice to see someone do something a bit different with the genre and this is certainly the case for 'The Sky Has Fallen,'" said Paul Pritchard, film critic for PulpMovies.com. "I was really on the edge of my seat by the time the film ended."
Focusing on two survivors and their developing relationship, the movie embraces its budget constraints to tell a more intimate story while still delivering the action and scary monsters one would expect in this kind of genre picture. Brian Kirst wrote in his review, "Roos creates both a sympathetic point of view and a world of oozing horror as well. Of course, Roos would be at a loss without two strong leads to rely on. Thankfully, Carey MacLaren as sword wielding dynamo Lance and Laurel Kemper as revenge encrusted Rachel definitely hold the picture aloft on their two very capable shoulders – offering up performances of taut depth and humor."
"We were all very passionate about the project. I really think if you're going to make a movie, you've got to go all out and give it everything you've got. You can't settle for less. You've got to put your heart into it. I chose this as my first feature, because it's a very personal story to me. I really wanted to make something unique that people would love. Something that meant a lot to me," said Roos. The film was shot in only 25 days. The DVD includes an assortment of behind the scenes videos and a step by step mask making guide for other filmmakers who'd like to create their own high quality FX.
For additional information on the award-winning new movie, visit theskyhasfallen.net.
About Lost Forever Productions, LLC:
In addition to web development, Lost Forever specializes in producing professional genre movies on any budget.
Contact:
Will Hanlon, Director of Public Relations
Lost Forever Productions, LLC
816-210-1177
###