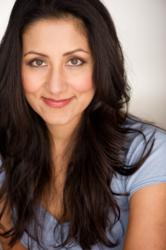 (PRWEB) May 03, 2012
The Dodge School of Film in California recently screened Aisha K. and Reha Zamani's controversial Afghan film titled Farishteh. Zamani's scene, in which she performed and translated from Farsi, was instantly controversial due to its content about a woman who had partaken in temporary marriage.
Sigheh is a contentious subject in Iran, and the majority of the Muslim population has banned this law, but some still enter into such marriages mainly as means of legal prostitution and financial support. Zamani gives voice to this issue at a time when women's rights are at the forefront of most political conversations in the United States. Through the use of media, Aisha K. and Zamani show the importance of women's voices in art and politics, to speak on issues concerning women's health and human rights.
"I felt the film would be more honest if it stemmed from my own roots. However, it is representative of all women who are oppressed and exploited through differing control mechanism, be it east or west," said Aisha K. "Through cinema, I am able to give a powerful voice to the marginalized communities of the world."
Zamani's heritage as an Afghani-American woman drives the focus of many projects. "I translated the scene and I know the Afghan-American culture," said Zamani. "This allowed for a greater insight into my performance. I wanted a truthful account, not one that was glamorized."
In addition to Farishteh, Zamani has on taken on the topic of women's issue in the Muslim community with her newest work on the Afghani Audio Book (The Watch). Zamani narrates the story of an Afghani woman who goes to great lengths to restore her dead brother's legacy, after he has been killed by the US Military.
From Sigheh to the plight of women civilians in the present Afghanistan war-state, these talented Afghan women bring contemporary women's issues to light through a variety of media.
For more information on the works of Reha Zamani or Aisha K. and their current projects, please visit rehazamani.com. For a a preview of the film, go to http://player.vimeo.com/video/3331543.
About Reha Zamani
Zamani is a professional dancer and theatrical and film performer who resides in Los Angeles, California. The Afghan actress graduated from California State University, Sacramento before moving to Southern California to pursue her career as an artist. Zamani aspires to open a school of performance and dance for young women in Afghanistan.