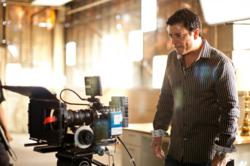 The experience of going from concept to screen in less than six months was both rewarding and exhausting. That milestone could not have been achieved without complete passion, dedication and expertise from everyone, cast and crew alike
HOLLYWOOD, CA (PRWEB) May 30, 2013
Buzz surrounding Writer-Director Daniel R. Chavez critically-acclaimed film debut is sweeping through Hollywood ahead of the film's world premiere on June 4 at the historic Chinese Theatre in Hollywood. "Broken Glass", a gritty-inspiring drama starring Eric Charles Jorgenson, has already earned "Official Selection" from Dances With Films, an independent film festival in its 16th year, and "Official Selection" from the Madrid International Film Festival with nominations for Best Film and Best Original Screenplay. "Broken Glass" will have its European premiere in Spain at the Madrid International Film Festival, which begins July 1. The 16th Annual Dances With Films Festival Opening Night Gala and Green Carpet event is on May 30 at the Chinese Theatre in Hollywood. Writer-Director Daniel R. Chavez and the cast of "Broken Glass" will be attending.
"Broken Glass" centers on James Glass, played by Jorgenson, who mysteriously winds up in a self-help meeting full of strangers struggling with their own personal issues. Unable to recall how he arrived at the meeting, Glass goes on a frightening and unexpected emotional journey that ultimately forces him to confront a traumatic experience that changed his life forever. The film also stars Cesar Garcia (Fast & Furious, Drive), Ken Lyle, Jess Allen, Jennifer Daley, Hina Khan, and Odell Mack.
The film was written, produced and directed by Chavez who has made a name for himself in the entertainment industry as a studio executive, previously working for Columbia Pictures, Warner Bros., and Disney before embarking upon his passion project "Broken Glass" – a sacrifice that has already paid off. Though "Broken Glass" was produced on a modest budget, Chavez credits the talent of his cast and the rigorous efforts made by his crew that has turned the film into a highly-anticipated release. Chavez brought in Academy and Emmy Award-winning talent behind the lens to create a truly polished, studio level feature.
Some of the talented crew behind "Broken Glass" includes Bruce Stambler, Co-Supervising Sound Editor, who is a 4-time Academy Award nominated and Oscar winner for "Ghost and the Darkness", and K-Bobby, Key Hair & Make-up artist who won an Emmy Award for "Oldest Living Confederate Widow Tells All". Acclaimed Picture Editor Peter Honess, whose credits include "Troy" and "L.A. Confidential" said it was "an absolutely marvelous story that is compelling and thought provoking – I loved it!".
"The experience of going from concept to screen in less than six months was both rewarding and exhausting. That milestone could not have been achieved without complete passion, dedication and expertise from everyone, cast and crew alike," said Chavez.
Chavez is currently developing his next two feature film productions, which are being read by A-list actors and has an epic franchise film akin to "Gladiator" that he'll move into development next year.
"Broken Glass" was produced and released by DragonCove Studios. Following the premiere at the Chinese Theatre in Hollywood, the cast and crew will take part in a question and answer session with the audience. The official trailer for "Broken Glass" can be seen at http://www.brokenglass-the-movie.com.
Early ticket sales are available at http://www.DancesWithFilms.com.
For Media Inquiries and Interviews, please contact YM & Associates PR | Marketing | Branding at YMoralesY(at)YM-PR(dot)com or call 949-244-9769.
Yvette Morales
YM & Associates
PR | Marketing | Branding
California | New York
949.244.9769 | 310.499.0906 Fax
YMoralesY(at)YM-PR(dot)com
http://www.YM-PR.com
Twitter @YMTheBevHillsPR