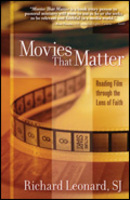 a book every person in pastoral ministry will want to use as he or she seeks to be relevant and faithful in a media world.
Ferndale, WA (Vocus) March 14, 2009
At face value, The Godfather is a movie about corruption, greed, and violence. Where can we find God in that? Everywhere, contends film critic Richard Leonard, SJ , whose book, Movies That Matter: Reading Film through the Lens of Faith (Loyola Press, $14.95, paperback), digs into contemporary films to help religious educators, parents, and anyone who loves movies meet God in the cinema.
In this spirited, provocative, and thoroughly readable guide, Fr. Leonard reveals that God is present in the movies, if only we view them through the "lens of faith"--an informed Christian point of view. Movies That Matter is a tool for viewing films through that lens of faith: for seeing deeper, for enriching the movie-going experience--and, ultimately, for living better as Christians.
In a series of short commentaries and reflections, Fr. Leonard delves into 50 contemporary films, highlighting why they matter and drawing out their lessons, symbolism, and themes. Each of Leonard's reflections opens with basic information about the film (its actors, director, rating, length, and date) and two or three "teachable moments"--concepts like "conversion," "hospitality," and "the meaning of suffering." Following the essay are two to three questions for further reflection or group dialogue. By presenting films with clear religious messages (such as The Passion of the Christ) as well as those that have subtler Christian themes (such as Dead Poets Society and Chocolat), Fr. Leonard shows that a movie doesn't have to be overtly religious to provide opportunities for learning about the Christian faith.
Even films that seem to undermine Christian morals give us a chance to learn. We should challenge the messages in films like The Godfather, says Fr. Leonard. Like the media of past generations--stained glass, sculpture, illuminated manuscripts--movies can help us make decisions about how we live our lives as Christians, sometimes by showing us a world absent of God's love.
An excellent resource for teachers of every stripe, Movies That Matter seeks to encourage people to engage with movies in a productive, meaningful way. Readers have a passionate, knowledgeable guide in Fr. Leonard, whose highly developed understanding of film and faith is evident on every page. As Rose Pacatte, FSP, coauthor of Lights, Camera . . . Faith! says, Movies That Matter is "a book every person in pastoral ministry will want to use as he or she seeks to be relevant and faithful in a media world." In a country where 1.5 billion people a year attend movies, we can pass on the faith in a relevant way by talking and learning about God through film. Movies matter because they are places where we can learn about the world, learn about ourselves, and learn about God.
Richard Leonard, SJ, is a writer and film critic who has written and spoken about cinema, culture, and faith on four continents. As an Australian Jesuit with advanced degrees in theology and film, Leonard is the director of the Australian Catholic Film Office.
Movies that Matter:
Reading Film through the Lens of Faith
By Richard Leonard, SJ
Loyola Press
ISBN: 978-0-8294-2201-6, Paperback $14.95
Contact:
Michelle Halm
PR & Communications Manager
773-529-3789
# # #