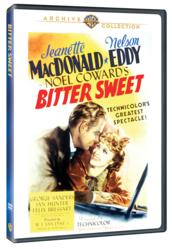 Philadelphia, PA (PRWEB) July 28, 2011
In Bitter Sweet, an elderly woman who looks back on her earlier life as a teenager; is played by Jeanette MacDonald. She recalls eloping with her music teacher (Nelson Eddy), eventually landing in a Viennese café where she sings while he conducts the orchestra. But complications ensue when Miss MacDonald's musical patron (George Sanders) shows a romantic interest in her.
Bitter Sweet is one of eight films the tandem starred in together. Directed by MGM stalwart W.S. Van Dyke, (director of Tarzan the Ape Man, The Thin Man), this colorful classic showcases such songs as "I'll See You Again," "Dear Little Café," "Kiss Me" and "If You Could Only Come With Me."
Noel Coward penned this classic tale, which was originally presented on the British stage and previously filmed in 1933 under the same title, starring Anna Neagle in the lead.
Bitter Sweet is being released through Movies Unlimited on the same day as [Smilin' Through the 1941 MGM Technicolor musical starring Jeanette MacDonald and her real-life husband Gene Raymond.
Movies Unlimited is one of the world's leading DVD and Blu-ray retailers. The Philadelphia-based company publishes the annual Movies Unlimited DVD Catalog and sells films through their website MoviesUnlimited.com. The company also publishes the Turner Classic Movies DVD Catalog. The company offers over 70,000 titles which are available by contacting Movies Unlimited by calling 1-800-4-MOVIES.
###