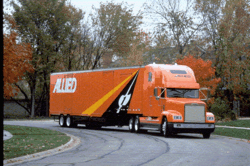 "June and July moving revenues were the best we've seen in 5 years."
Spokane, WA (PRWEB) July 17, 2012
American Van Service, Inc. (web: movingandstoragespokane.com), one of the top moving companies in Spokane, has recently reported their strongest summer moving season. This is a significant increase from the past five years. With a statistic such as this, it indicates that the recession has finally bottomed out. More people are now moving and are spending money with movers Spokane once again.
"As the economy has improved, more people are looking for quality moving companies in the Spokane, WA, area," explained Jason Farrow, CEO of American Van Service. "We have enhanced the quality and service of our movers to make today's moving experience easier than ever."
For more information on American Van Service, go to

The Different Types of Moves
Spokane movers are seeing more residential moves than they have in over five years. This is good news for moving companies because it shows that the economy is no longer holding people back from moving on with their lives.
Many of the local moves are military moves. The moving companies have reported they have been seeing more military personnel relocating into the Spokane area over the past year than they have in a very long time. This may have to do with the weather in the area, the economy as well as the fact that the military base is located very close by.
There are also more business moves taking place. Businesses that get help from movers Spokane WA can benefit significantly because everything is handled for them. This allows a business to continue with their day to day operations without having to worry about packing or moving. The moving companies Spokane offer enough services to simplify the process without breaking the bank.
Even long distance moves are becoming increasingly common. American Van Service, Inc. has seen individuals moving to and from Spokane from various other parts of the country. Much of the bad weather on the East Coast has caused a lot of people to make the move to a part of the country where hurricanes and thunderstorms are not as common. With the economy improving, the long distance moves have become easier to endure and thus more popular.
When the recession was still dropping, moving companies all over the area were experiencing less and less business. Much of this was regarded because when people don't have available funds, they are either not relocating or they are taking the DIY approach. While American Van Service, Inc. has always remained a popular choice in the area, even they were affected by the recession and the lack of individuals requiring a moving company Spokane.
The sudden increase in business in comparison to the past five years shows that the recession has, potentially, bottomed out. If the increase in the moving industry is any indication of the state of the economy, many more industries are going to be reporting increases as well. Even if it's just related to the moving industry, American Van Service, Inc. is looking forward to serving more homes and businesses with the move. The company has professional, reliable movers who have been well-trained in the various services that the company has to offer.
About American Van Service, Inc.
American Van Service, Inc. has been one of the top movers in Spokane for over 50 years. The company has been in business since 1957 and has gained a lot of notoriety since its inception. They are an Allied Van Lines agent and have been family owned and operated since day one. This company is also one of the largest movers in Spokane, WA, which is why many individuals have used them repeatedly for their residential and commercial moves over the years.
The company offers both moving and storage Spokane services. Those who are looking to move in or out of the area will benefit from moving services that include the physical move itself as well as packing services. Storage options are also provided. This includes finding an appropriate storage unit to house items that do not fit into one's current home or business. All of these services provided are at low prices that are competitive with the other moving companies located in the Spokane, Washington area.
Anyone looking to move locally, across the state, across the country, or even internationally can rely on American Van Service, Inc for assistance. They provide free moving quotes to residents and business owners. Further, they also offer a guarantee that ensures everything is moved safe and sound without any kind of damage occurring.
People looking for a family run moving and storage company in the Spokane area should take a close look at American Van Service, Inc.
Contact:
American Van Service, Inc.
http://movingandstoragespokane.com/
Telephone: (509) 210-2800