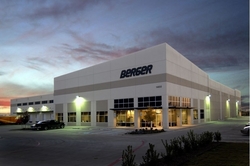 Our customers, and the communities we serve, have helped shape the rich history of Berger Transfer
St. Paul, MN (Vocus) July 9, 2010
Berger Transfer and Storage moving company, an interstate agent for Allied Van Lines, announced its 100 year anniversary in the moving industry. Berger Transfer started as a single horse and cart operation in 1910 and has now grown to a multi-million dollar worldwide business.
"Our customers, and the communities we serve, have helped shape the rich history of Berger Transfer," explained Bill Dircks Jr., chief executive officer of Berger Transfer and Storage, Inc. "The 100th anniversary celebration is not only an opportunity to commemorate past successes, but also an opportunity to remember the vision and values that will continue with us into the future."
During this past 100 years, Berger Transfer has serviced over a million moves throughout the country and the world. Here are some highlights:

1973: under the darkness of night, Berger's moving company in St. Paul and its Industrial Division relocated $5 billion to the new Minneapolis Federal Reserve headquarters in Minneapolis, Minn.
In the early 90s: Berger's moving company in Dallas warehoused and transported two sections of the Berlin Wall that were on worldwide tour in the United States.
2005: In the aftermath of Hurricane Katrina, Berger provided transportation relief efforts to the city of New Orleans.
2008: Berger's moving company in New Jersey delivered two 37 foot steel beams, that were a part of the original World Trade Center, to the Giants' Stadium in New Jersey. The beams were signed and put on display as a tribute to the victims of 9/11. These beams will be preserved in the new National September 11 Memorial and Museum at the World Trade Center site in New York City.
"We want to thank our customers for giving us an opportunity to serve their moving needs over the past 100 years," said Dircks. "With the support of our hard-working team and their focus on customer service, we plan on celebrating many more years to come."
About Berger Transfer and Storage, Inc.
Celebrating a century of service, Berger Transfer and Storage was established in 1910 and is headquartered in St. Paul, Minnesota. Berger is an experienced leader in household goods and specialized transportation services. With 19 locations nationwide, Berger is Allied Van Lines' largest asset-based interstate agent and provides relocation and transportation services to residents, corporations and government agencies around the world. Berger has offices in the following markets: Atlanta, Austin, Charlotte, Chicago, Cincinnati, Cleveland, Columbus, Dallas, Houston, Kansas City, Los Angeles, Louisville, Mesa, Phoenix, St. Paul, San Antonio, Sarasota, Tampa and Ramsey, NJ. For more information about Berger Transfer and Storage, please visit: http://www.bergerallied.com.
About Allied Van Lines
Established in 1928, Allied Van Lines, with more than 400 agent locations in North America, is an experienced leader in household goods moving and specialized transportation services. Allied is one of the world's largest moving companies and one of the established global brands of SIRVA Inc., a leader in providing relocation services to corporations, consumers and governments around the world. For more information about Allied Van Lines, visit http://www.allied.com.
###