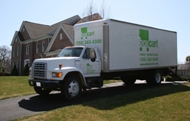 Our goal is to continuously listen to our customers and offer everything they could need to make the moving experience as stress-free as possible
Sterling, VA (PRWEB) July 08, 2011
BoxCart, a Northern Virginia full-service moving and portable storage company topped the list as one of readers' favorite companies in the Washington City Paper "Best Of" awards in the Goods & Services category. The annual poll covers over 100 categories.
BoxCart's philosophy is grounded in superior customer service, and the company is consistently recognized as a favorite in the Northern DC region. BoxCart won the Angie's List Super Service award in 2010 and the Best of Northern Virginia award in 2009.
"We're extremely pleased to receive the recognition from the DC community for our moving and storage services. Our goal is to continuously listen to our customers and offer everything they could need to make the moving experience as stress-free as possible," says BoxCart Vice President, Amy Stowell.
BoxCart offers comprehensive moving services for Northern Virginia customers, including local and long distance moving, that can be bundled with short or long-term on- or off-site storage and professional packing services.
For customers needing mobile storage solutions, BoxCart's unique BoxCart portable storage units can be delivered directly to a home or office for convenient loading. The BoxCarts can be kept on-site, or transferred to BoxCart's state-of-the-art air-conditioned and heat/humidity resistant storage facility. The portable units are constructed from weatherproof steel, and they come in a 5'x8' size, which makes loading and sorting through items much easier than conventional units that are 12' or 16'.
BoxCart is a family owned and operated company, fully committed to customer service. All of BoxCart's services are backed by their acclaimed "Home Protection Services," which is a system designed to protect the home, furniture, and belongings during a move.
BoxCart serves Northern Virginia , Washington, DC, and Montgomery County, Maryland. Visit http://www.boxcart.com to receive a free moving quote or to obtain mobile storage unit pricing.
About BoxCart
BoxCart is a family owned- and operated moving company based in Sterling, Virginia that offers complete moving and storage solutions for homes and businesses. The company has on-site portable storage units, a 100% climate controlled off-site facility, and packing and moving services for short or long-distance moves. All of their services are tailored to the unique needs of an individual move and are backed by BoxCart's Home Protection Services. To find out more, visit the company's website at http://www.boxcart.com.
###