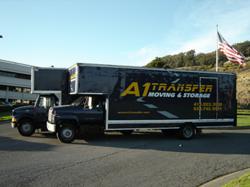 We were awarded the Diamond Certified Award in 2009 which requires rigorous moving standards and moving practices where only the highest rated pass
San Francisco, CA (PRWEB) November 03, 2011
A-1 Transfer is commemorating its 25 years of serving San Francisco Bay Area residents with top quality moving services and storage services by offering its customers these great limited time discounts.
These incredible discounts include the following:
-15 percent discount off moving and packing labor
-Free packing materials value $25.00
-Free delivery of packing materials
-Free use of wardrobes
-Free one month storage
-Free estimate.
San Francisco home movers, A-1 Transfer knows that in these tough economic times everything helps and these discounts will go a long way to easing the impact of moving costs.
"All of our movers are carefully trained in customer service and the handling of antiques, pianos, furniture and fragile objects," says Peter Breslin owner and operator of A-1 Transfer. "That is why we were awarded the Diamond Certified Award in 2009 which requires rigorous moving standards and moving practices where only the highest rated pass."
These discounts are being offered for a limited time only.
For more details about the special offer and A-1 Transfer products and services, call 415-529-4424. A-1 Transfer is located at 1558 Carroll Ave., San Francisco, CA 94124. Anyone interested can also visit their website at http://www.a1transfer.com and their Facebook fan page.
About A-1 Transfer Moving and Storage
A-1 Transfer Moving and Storage is a business offering moving services in which the owner takes full accountability for the customer's move, ensuring that it is a smooth one. Customer satisfaction is paramount to them and they will do everything to guarantee this during the client's move. A-1 Transfer of San Francisco offers many services including secure storage, office movers for business moving, home movers for residential movers.
###