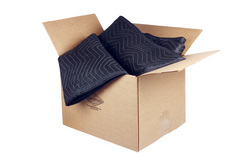 "I've moved many times, including cross-town and cross-country. Whether moving myself or through another company, I've always relied on quality moving supplies to keep my furniture looking great and my appliances scratch-free," said customer J. Mills
Urbana, IA (PRWEB) July 1, 2010
This is the time of year many families considering relocation opt to move. Good weather conditions make for easy travel by road, mortgage rates are favorable, and children are free from school responsibilities.
A Census Bureau report indicates that among families that move, 56% do so within the same county and 20% do so within the same state. In comparison, 19% of movers go for the long haul and move to a different state.
US Cargo Control is introducing a new moving blanket into their product line, which encompasses products ranging from economical to heavy duty to service homeowners to commercial movers alike. The new blanket replicates the durability of the company's Supreme blanket, but in a lighter weight which bears a lower price.
The new moving blanket, called the Performer, is a cotton/polyester blend weighing at 75 lbs per dozen.
Whether a move is just around the corner or around the globe, the best way to protect treasured belongings can be a real concern. Those that have experienced relocation before know that investment in quality moving supplies including moving blankets is well worth the investment.
As with many other types of investments, its important to purchase the highest-quality moving blankets you can reasonably afford. Cotton, heavy weight blankets like those available at US Cargo Control help protect furniture from nicks, scratches, and even wood fiber damage caused by sharp corners or excessive weight.
Moving supplies like hand trucks, furniture dollies, and lifting slings can make quick work of transporting boxes and furniture from building to moving truck and into your new home.
While some may opt for a more economical route and use old sheets or spare jackets as padding between items in a moving van, they run the risk of incurring damage caused by insufficient fit and cushioning. A food-fitting moving blanket will be heavy enough to stay in place and cocoon fragile wood and expensive appliances. Some may also cut costs by not using time-saving moving supplies like hand trucks. In the end, however, hand trucks and other equipment save resource time (paid labor) and minimize the risk of personal injury.
# # #