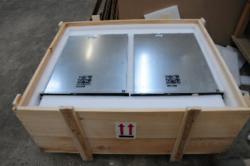 Our company is really excited about the many upgrades we have put in motion. We hope that this really enriches our customers experience and have already noticed a significant increase in our performance
(PRWEB) August 09, 2011
Small moves often get overlooked or pushed back by larger moving companies, especially for students moving to college or young professionals moving to new residences. Ship Smart Inc, a moving company specializing in small moves can help. They recently upgraded their entire computer system making small moves faster and more efficient.
These new upgrades also include eliminating slow, inexperienced packers, allowing Ship Smart to pick up customers' belongings between one and five business days. The average time for pick up with larger moving companies is currently two to four weeks.
"Our company is really excited about the many upgrades we have put in motion. We hope that this really enriches our customers experience and have already noticed a significant increase in our performance", says John Kessler, CEO of Ship Smart Inc.
Kessler has over 20 years of experience in the moving industry, which enables him to lead this small moving company in the right direction. His experience working for companies like Mayflower and several other packing and crating companies has given him the insight to develop Ship Smart into a multi-million dollar company.
Students moving to college who use Ship Smart's moving service don't have to pay an arm and a leg to have small amount of furniture and boxes shipped cross country. They also can have their small move picked up quickly, which can be a problem in the month of August.
Single individuals or young professionals with a studio, dorm, or one bedroom household can count on this small moving company to put them first, even if the move is International.
"No one is immune to making mistakes, but we believe that by learning from our mistakes we turn potential weaknesses into strengths. This is the reasoning behind the recent changes," continues Kessler.
To learn more about Ship Smart or for a free quote, visit shipsmart.com.
About Ship Smart Inc.
Ship Smart Inc. is a small worldwide moving company specializing in small moves and transporting items that are delicate, valuable, and difficult to package properly. They offer full service one-way moves ideal for transporting furniture, antiques, electronics and loads up to 1200 pounds.
###