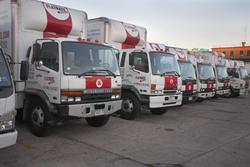 Priding themselves on unbeatable service and a steady stream of customer referrals, Los Angeles movers, Flat Rate Moving Systems
Los Angeles, CA (Vocus) February 27, 2010
Since 1991, FlatRate moving company has set themselves apart from the rest. They developed a totally new concept offering customers an all-inclusive, guaranteed, one-price move in order to eliminate the questionable pricing practices inherent to the moving industry, while at the same time providing quality service at competitive prices to their customers in New York. In 2005, due to their success and from this simple concept, they branched out to California with locations in Los Angeles and another in Oakland and since then have become the most recommended mover in Los Angeles and the Bay Area.
"Priding themselves on unbeatable service and a steady stream of customer referrals, Los Angeles movers, Flat Rate Moving Systems" first shaped the moving industry with their revelatory yet simple business concept: flat rate, top service. With highly trained movers and specialized trucks and equipment, Flat Rate has set new standards for the New York moving business since 1991. In 2005, they expanded their operation nationwide to include branches in California and have since set new standards for the moving industry in California.
FlatRate has become a household name in the California moving business due of their top-of-the-line technology, equipment, knowledgeable staff and manpower. Every move is treated differently because every situation is unique. Location, date, time, floor, and whether or not there are stairs or elevators are all factors taken into consideration when giving an obligation free quote and planning a move. With their nationwide network of FlatRate office and trucks, they are able to not just plan a move but also provide a window for delivery for all long distance jobs as soon as the customer books a pick up date. Best of all, the guaranteed moving quotes are always accurate. As their name suggests, the rates at FlatRate are flat and all-inclusive. There won't be any surprises coming to you at the end because the rates are honest and accurate. They'll ask you all of the pertinent questions in the beginning to ensure that customers get their quote right the first time around.
FlatRate Moving and storage's meticulous and careful attention to residential and commercial relocation keeps customers returning for all their moving needs. Not only does Flat Rate avoid hidden costs with their all-inclusive, guaranteed pricing, the company also takes great care to ensure that all of your furniture and possessions arrive perfectly safe and within a reasonable time frame for all long distance moves. On their website http://www.flatrate.com, you can read about their customers experiences.
Flat Rate has proven that "Los Angeles Moving" no longer has to be synonymous with "stressful." Customers say this moving company's professionalism, competitive prices, courtesy and staff diligence all help Flat Rate live up to their name. Let New York and now Los Angeles's most recommended movers take care of you, as this company is obviously "moving" in the right direction.
Special services
Fine Arts Storage - For both institutions and private collectors, care and storage of artwork has to be handled by professionals, who are bonded against damages and are used to dealing with objects of value. Custom crating will almost certainly be required to move the artwork safely, with padding and packing materials that are suited to the piece.
Moving Los Angeles Guide - Information and resources that will help you make your relocation cost effective, efficient, and even pleasant.
moving San Francisco - FlatRate performs local and interstate moves. So whether you're searching for Los Angeles, San Francisco, or San Diego movers, we've got you covered. We strive to provide superior service and obsessive attention to detail during every move, no matter how large or small it may be.
For more information on this company, visit their website at http://www.flatrate.com or call 213-404-1080.
###