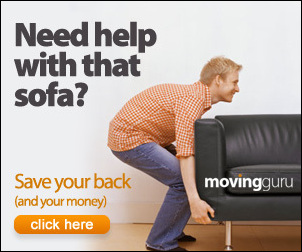 Americans are moving more than ever, and our statistics back that up. We've seen a large increase in moves made to Arizona and expect to see more of the same this spring and summer season. MovingGuru's free moving quotes tool will allow these movers to find the moving company just right for them
Santa Clara, CA (PRWEB) January 30, 2007
As Arizona's population growth rate exceeds Nevada's, and Louisianans are filling up Texas and Florida, according to the latest Census Bureau stats, Americans are on the move more than ever. The Economist reports that 40 million Americans will move this year. That's equivalent to the population of Spain! Movers need not look further than MovingGuru to find moving companies, moving quotes, local movers, and a complete moving guide - everything needed for successful relocation.
"Americans are moving more than ever, and our statistics back that up. We've seen a large increase in moves made to Arizona and expect to see more of the same this spring and summer season. MovingGuru's free moving quotes tool will allow these movers to find the moving company just right for them," said Amit Kumar, Product Manager at MovingGuru.
MovingGuru's most recent addition to their site is a comprehensive moving guide with detailed tips on how to make each move - big or small, across town or across the country - successful. From packing common items and valuables, to switching utilities and insuring the move, MovingGuru's online moving guide has the answer to any moving dilemma.
One of the biggest questions in any move is: how much will it cost? Movers can find real time, free moving quotes at MovingGuru.com for a quick answer. The moving quote reflects size of move, beginning and destination points, and date of move. Or movers can, with just a few clicks, find a comprehensive directory of local movers and storage centers for service in their exact area.
The increased mobility of Americans has led to many different types of moving options. Whether movers wish to take charge of the entire task themselves, combine self service moving with that of day laborers, or hand the project over to professional movers, MovingGuru.com can provide a solution tailored to every need. Storage options are also available, helping movers buy precious time during the relocation process.
To access extensive information for any kind of move, visit http://www.movingguru.com.
About MovingGuru
MovingGuru.com is an online resource that helps simplify the entire process of relocating. With free, no-obligation price quotes for local moving companies and an exhaustive list of tips and ideas, including a complete moving guide, MovingGuru serves as an invaluable assistant for any type of move. Businesses and homes of every size making any kind of move can save valuable time and money by relying on MovingGuru's extensive online information center.
###