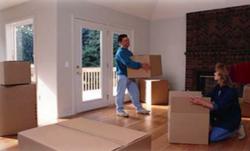 Our crews come equipped with the right size truck and all the right equipment and experience to ensure your move goes as smoothly as possible
Alameda, CA (Vocus/PRWEB) May 03, 2011
All City Moving & Storage, the premier movers in San Francisco, now offers tips on how to make the daunting task of moving, whether locally or even internationally, stress free. All City Moving & Storage has been in business more than 23 years and and offers five tips learned over their many years in the business on how to help moving day go by without a hitch.
"Our crews come equipped with the right size truck and all the right equipment and experience to ensure your move goes as smoothly as possible," says a representative from All City. "From start to finish we take care of moving, self storage, local moving, storage, long distance moving, storage facilities and self storage."
They offer these five tips to help homeowners make the process easier:
1. Make a game plan for packing. For example: Pack one room at a time. This will help when it comes time to unpack. Pack a couple of cartons a day, starting well ahead of the move. Mark all boxes, designating room and box number. Make a carton identification log to show the number of boxes packed per room, and the total number of cartons packed.
2. Clean up. Moving is a great time to clean out unwanted goods from the home, so throw away flammable items, and empty fuel from mowers, trimmers and clippers. Hold a garage sale for the unwanted goods.
3. Make sure to get appropriate packing materials for belongings. Buy plastic bags and labels for easy identification, foam peanuts, Styrofoam pellets or "popcorn," tissue or craft paper for delicate packing jobs, corrugated paper rolls for figurines and fragile items, gummed tape (1.5 to 2 inches wide) and/or strong twine for sealing cartons, markers and labels for identifying contents of cartons, notebook and pencil for carton identification log.
4. Use only strong, corrugated cartons with covers. All City can supply customers with specially made cartons, for everything from mattresses to clothing and mirrors. The added protection of mover-provided cartons may prevent the damage that results from the use of poor-quality packing materials. A general rule to remember on carton size—the heavier the item, the smaller the carton
5. Start making up your change of address list. Arrange to have mail forwarded. Arrange termination date for electricity, gas, oil, telephone and other main suppliers.
For more information about All City Moving & Storage's tips on moving and packing or any of All City Moving & Storage's services, call them at (510) 978-4440 or view them on the web at http://www.northamerican.com/.
About All City Moving & Storage
All City Moving San Francisco is a moving, storage and relocation service that specializes in Bay Area storage services, estate sales, relocation services, and domestic and international moving services. All City Moving & Storage serves the San Francisco Bay Area.
All City Moving & Storage is a division of North American Van Lines. Established in 1933, North American Van Lines has more than 500 agent locations throughout North America and were pioneers in many tracking and safety innovations in shipping and transportation.
###