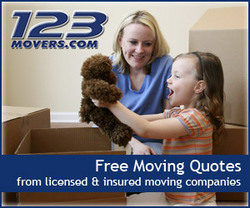 Fort Lee, New Jersey (Vocus) November 19, 2009
123 Movers, a division of Dominion Enterprises that provides leads to movers, has now partnered with rentBits.com, a rental listings search engine, to offer free moving quotes from licensed moving companies for individuals looking to rent a home or apartment.
Americans have been opting to rent and relocate for work more than ever with the recent collapse of the economy. Since moving resources are valuable to users looking to move into a new apartment, it was logical for 123 Movers to establish a partnership with rentBits to better assist users with their real estate and moving concerns.
Customers who use rentBits.com to search for rental properties can now receive free moving quotes from multiple qualified and licensed moving companies in their area with ease. Visitors can find the link for free moving quotes at the top of the tabbed rentBits.com page in the first tab that reads "Moving Quotes". Users who click the tab will automatically be taken to a moving quote form for users to fill out and submit. Once the short form is filled out, users will immediately be contacted by moving companies with quotes to compare. This makes the moving process even more convenient since users of both sites no longer have to switch between the two for all of their moving and real estate needs. Users looking for an apartment can now find cheap movers and save money by picking the best quote through the free moving quote generator.
Along with providing users with moving quotes from licensed moving companies, 123 Movers is also a source for moving articles, finance calculators, and real estate agent listings. 123 Movers only works with licensed and insured moving companies and must pass a rigorous screening process before being listed.
About rentBits
rentBits is a free national rental search engine offering renters one place to search across many rental sources. The company offers an intuitive, clean interface, new rental search technology, and the most comprehensive index of rental property listings to help renters find an apartment or home for rent. rentBits was started by a group of Internet and real estate veterans, including ex-Googlers Dan Daugherty and Tim Moynihan. Located in Englewood, CO, rentBits (http://www.rentbits.com ) is a product of Rent Marketer, Inc., an online rental advertising network and distribution platform.
# # #