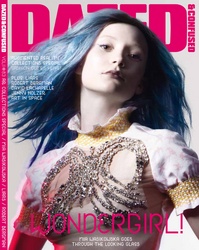 Brooklyn, NY (PRWEB) February 19, 2010
Dazed & Confused's groundbreaking March issue is pushing fashion into Augmented Reality. Holding the March issue up to a webcam brings our stories to life, with five exclusive fashion films available only to magazine readers and via Dazeddigital.com. Contributors explore idiosyncratic cinematic worlds from urban gothic to lurid burlesque.
A special 30-second teaser film was produced for the issue, showing highlights of all the films that are only viewable in full with a physical copy of the magazine. Users can pause the trailer at any time and instantly click on a product to shop for any item featured, translating our contributors' creative vision directly into an accessible, tangible world that users can explore and interact with. Brands included in the fashion films include Chanel, Burberry, Gucci, Dolce & Gabbana and Diesel, to name a few. Pokeware allows click-throughs to be monitored and analyzed, wherever videos may subsequently appear on the web, providing an invaluable tool for editors and a seamless, integrated solution for advertisers and brands. To see teaser film, which also exclusively debuts the revolutionary Pokeware technology in Europe go to Dazeddigital trailer.
Also in Dazed's March issue: cover girl Mia Wasikowska talks about her adventures through the looking glass in Tim Burton's Alice in Wonderland; Dazed catches up with the Liars who tell us about their new album Sisterworld; rising Brit actress Holilday Grainger on her screen debut The Scouting Book for Boys; interviews with Robert Bergman, David Lachapelle and Michael Hortovitz; intergalactic art and South London's explosive creative scene.
NOTES TO EDITORS
Dazed & Confused is a 100% independent British fashion, culture and arts magazine, with a reputation for ground-breaking photography, fashion and editorial. Published monthly, it was founded by Jefferson Hack and photographer Rankin in 1992. Its editor is Rod Stanley, and Nicola Formichetti its creative director. Luxury biannuals AnOther Magazine and AnOther Man, and website DazedDigital are part of the Dazed Group.
Pokeware™ is a patented video search and shopping search technology. For more details, please contact info(at)movingimageandcontent(dot)com. Moving Image & Content hold the exclusive right to license and distribute Pokeware to the fashion, jewelry and beauty industries worldwide. Founded by Quynh Mai, a 15-year veteran of the fashion industry who has handled top-level brand and advertising communications for some of the world's most prestigious brands (from Burberry to Smartwater to Diane von Furstenberg), Moving Image & Content guides fashion and luxury brands, magazines and photographers into the world of fashion film, from strategy and conceptualization to art buying to full-service production and post-production to distribution across all the relevant digital media channels. Learn more at http://www.movingimageandcontent.com.
# # #