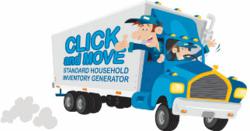 In 2012, BBB received more than 9,300 complaints against movers.
(PRWEB) May 29, 2013
Moving companies can take the stress out of moving; however, they can also take advantage of innocent customers. The Better Business Bureau ( BBB ) is partnering with the American Moving & Storage Association ( AMSA ) to provide consumers with tips on how to avoid moving scams.
Finding reliable movers is a time consuming intimidating task. ClickandMove eliminates that fear with an online application inventory system. Customers complete their own inventory, and submit it to AMSA movers to receive competitive quotes. This feature protects customers from getting unrealistic estimates. The consumer is in charge of their own moving inventory; therefore, there are no hidden costs associated with ClickandMove.
In 2012, BBB received more than 9,300 complaints against movers. Complaints included missing items, damaged items, changes in originally estimated quotes and late deliveries. Holding items hostage, and demanding a large sums of money on moving day is common moving scam. This scam leaves customers with their hands tied, and forced to pay more than expected.
If you're moving out of state, understand that all interstate movers need to be licensed with the federal government. Being knowledgeable about the industry will protect you and your belongings from scam artists. ClickandMove received the Government of Alberta Consumer Champion Award for their application, which ensures customers are only receiving comparable quotes from AMSA movers.
Have your wits about you, there is a reason why low quotes lead to moving scams. With ClickandMove, you can be confident that you're receiving comparable quotes from professional movers, who are members of the American Moving & Storage Association.