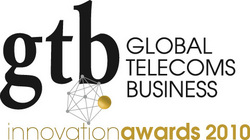 I'm very proud of our company and our people in achieving this award
London, UK and Atlanta, GA (Vocus) June 8, 2010
Movius Interactive Corporation and network operator Telefonica last night won the prestigious best "Consumer Service Innovation" award against world-class competition at the Global Telecoms Business Innovation Awards ceremony held in London. This was in recognition of Movius' new Side-Line(SM) Service scheduled to go live shortly at Telefonica across Latin America.
"I'm very proud of our company and our people in achieving this award," said Movius CEO Oscar Rodriguez. "We are honored to be recognized along side Telefonica, who have seen the enormous potential of the Side-Line Service and have backed their faith in us by looking for such a large-scale deployment across the Latin American market."
Side-Line Service provides a cost-effective personal and private second line service for mobile subscribers using a consumer's existing mobile phone. There is no need to purchase special phones or multiple SIM cards. The solution addresses the desire of many subscribers to have multiple phone numbers so as to easily separate their business and personal lives while still only needing to carry one mobile phone.
With Side-Line Service, subscribers can now receive calls for multiple numbers on their existing phone. The service also provides them with the flexibility of having incoming calls to these secondary numbers automatically forwarded to a separate and private voice messaging account versus receiving them live. The subscriber, when necessary can modify this setting. No new client software is required nor do new technology skills need to be learned by the user.
An additional service available with the Side-Line Service is My Notifications. This allows the user to receive notifications of missed calls and new messages deposited for their virtual number on the subscriber's configured mobile phone. The new message comprises an embedded link that allows a subscriber to play that specific message without navigating IVR menus.
"We believe that Side-Line Service is quite simply the world's most cost-effective and flexible solution for offering multiple lines using a consumer's existing mobile phone and I'm thrilled that the judging panel of Global Telecoms Business have chosen to acknowledge our achievement with this service," added Mr. Rodriguez.
The Movius deal with Telefonica was announced in April, with the operator planning to introduce the service in 12 countries in Latin America.
About Movius
Movius Interactive Corporation is a leader in messaging, collaboration and mobile media solutions for service providers worldwide. Movius solutions enable carriers to increase ARPU, reduce churn and expand their market share via innovative value added applications. Movius gives people the power to enrich their lives through viable innovations that transform the way they interact with information, media and each other.
For more information, please visit http://www.moviuscorp.com
# # #