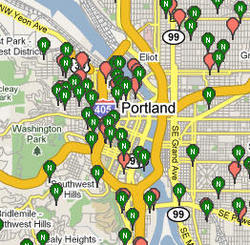 The help of an experienced real estate agent is equally important because they protect the buyer's interests when purchasing a home.
Portland, Oregon (PRWEB) September 18, 2009
Movoto.com announced expansion of their unique service to home buyers in Oregon and South Washington today. Residential real estate buyers can now use Movoto.com to access active homes for sale listings in Oregon and South Washington communities including the Portland, Oregon metro area. In addition to homes for sale listings, Movoto's comprehensive service allows real estate buyers to be introduced to a local experienced real estate agent from an established neighborhood brokerage when they are ready to buy or sell a home.
Caroyl Van Tassell, Movoto Oregon Broker, stated, "I'm thrilled to get the word out that Oregon and South Washington real estate buyers are now able to access the services of Movoto.com. The Internet is an important starting point for buying or selling a home and Movoto.com provides excellent online research tools." Van Tassell also noted, "The help of an experienced real estate agent is equally important because they protect the buyer's interests when purchasing a home."
Movoto's hand-picked real estate agents are knowledgeable about the current market and experienced in helping real estate buyers at any level of experience, from first-time buyers to seasoned investors. Movoto partner agents use their extensive experience to help sort through the complex details of buying a foreclosure, short sale or traditional listing. Real estate agents are invited to join Movoto's network only after completing an objective screening process that ensures each agent is well-versed in the needs of real estate buyers in today's market.
Mike McHugh of The Meadow's Group Realtors in Portland, Oregon said, "I've been serving buyers in the Portland market for 17 years and have seen the real estate market swing up and down many times. Right now, our market favors buyers and real estate buyers can find great homes at great prices. As an experienced agent, I'm able to help buyers make the right offer and understand the process so they are able to purchase the home that they want."
Movoto's patent-pending real estate search technologies continuously scan local real estate multiple listing services (MLS) for homes for sale listings. Additionally, real estate buyers are presented unique research for each home for sale listing--from local Census Bureau demographics and FBI crime statistics customized by ZIP code, to nearby school locations and performance data. Local stores, parks, libraries and restaurants are also displayed for Oregon homes for sale and South Washington homes for sale.
The services of Movoto.com are offered free of charge to consumers. There is no obligation to buy a home with an agent who partners with the service.
About Movoto
Founded in 2005, Redwood-City-based Movoto is led by an experienced team of real estate industry veterans and internet technology experts with a shared vision of empowering real estate consumers. Movoto provides a unique online home buying solution that combines innovative, easy-to-use research tools with ready access to a network of experienced local real estate agents. Movoto's expanded service adds homes for sale listings in Oregon and South Washington to Movoto's current coverage of homes for sale in Arizona, California, Florida, Georgia, Illinois, Maryland, Massachusetts, North Carolina, Texas, Virginia, and Washington DC.
###