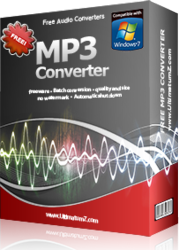 US (PRWEB) December 12, 2012
UltimatumZ.com, an online platform that provides downloadable software tools, now introduces a new MP3 converter. This Windows 7 compatible converter can convert WAV, WMA, AAC and other media files.
This MP3 converter will help many users, especially the ones who store audio files on the PCs. A spokesperson of UltimatumZ.com revealed why they introduced this converter. He said that Waveform Audio File Format or WAV is the standard format for storing audio files in the computers and using the converter, the users can extract sound tracks from these files after conversion. Also, WAV are larger files because of uncompressed nature. Generally, the users like to store more files in their music players and having lot of WAV files will restrict them. By using a MP3 converter, they can convert the WAV files and store more audio files in their music player.
He added, "Not just WAV files, with this new MP3 Converter, you can also convert many other audio files such as AIF, AAC, MPA, WMA, RA, IFF and lots more. This is a very user-friendly tool and you can complete the process of conversion quite fast. It also comes with a slider that will help you to adjust the quality of the converted files."
The MP3 converter allows batch conversion and there is no time limitation or watermark. With multi-core CPU support, the speed of conversion is also high. The users can also control the size and quality of output generated after the conversion process. An expert of media converter software tools at UltimatumZ.com says, "We keep on introducing various tools and this MP3 Converter is definitely among the bests that we have introduced so far. It is supportive of output devices like iPods, iPads, iPhones and cell phones by almost every manufacturer such as Sony-Ericsson, Nokia, BlackBerry, etc."
To install this software, the system requirements are operating system of Windows 7/Vista/XP, 256MB memory, hard disc space of 100MB, and 1GHzAMD/Intel processor. Windows Media Player 9.0 or above, QuickTime Player 6.0 or above and DVD-ROM drive are among the other requirements of conversion using the software.
Paul Xiang, a music player enthusiast says, "I have lots of music players and most of these players allow me to store more files if the format is MP3. I thank UltimatumZ for introducing this youtube to mp3 converter as it will help me to convert diverse audio files that I keep downloading from different sources."
About the company: UltimatumZ.com brings downloadable software tools, which are mostly media file converters. Learn more about their latest MP3 converter