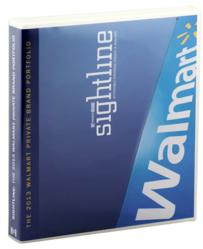 The breadth, scope and significance of the Walmart Private Brand portfolio should have every retailer and manufacturer and business person paying attention.
Omaha, Nebraska (PRWEB) May 13, 2013
My Private Brand, the influential private brand strategy website, released an in-depth report on Walmart's private brand portfolio and business strategy. Today's release of SIGHTLINE marks the first in a new series of insightful, in-depth reports covering the most successful retailers' private brand portfolios and strategies.
With the release of SIGHTLINE, written by Christopher Durham, My Private Brand President, and retail branding expert Perry Seelert, the duo delve into the brands that make up the Walmart private label portfolio, category by category.
"The breadth, scope and significance of the Walmart Private Brand portfolio should have every retailer, manufacturer and CPG paying attention," said Durham. "It's bigger than people realize because it's purposely hidden behind Great Value. We've invested the time to analyze how Walmart is leveraging its private brand portfolio to dominate or own many categories. Perhaps more importantly, we point out the holes in the portfolio waiting to be leveraged."
"The story of Walmart's private brand portfolio has been left largely untold because it was buried under stories about the perceived failure of Great Value," said Seelert. "Since it's reinvention, the strategic importance of Great Value is unmistakable, but it's only one of over 50 store brands the retailer manages and leverages for their retail dominance."
SIGHTLINE takes the reader on a walk through the Walmart store one department at a time. While most reviews of their brands have focused on Great Value, SIGHTLINE looks at the entirety of the brand portfolio, from Ol' Roy in Pet to Onn in Electronics and Faded Glory in Fashion. Key insights in SIGHTLINE include:

An overarching look at the Private Brand portfolio across each department as well as each brand role in the Private Brand architecture
The Top 10 Walmart Private Brand strategies and insights
The Top 10 opportunities for Walmart Private Brands that they still could realize.
The first ever marketing, merchandising and design analysis of the Walmart Private Brand portfolio
"Walmart's Private Brand portfolio is a sophisticated, increasingly credible, multi-billion dollar asset," said Durham. "It's a powerful tool in Walmart's quest to create differentiation, build customer loyalty and further sharpen their piercing competitive edge."
With over 450 pages of detailed analysis of Walmart's Private Brand portfolio and strategy, SIGHTLINE is a must-have for all retailers, manufacturers, national brands, agencies, brokers, vendors and analysts.
About Christopher Durham and My Private Brand
Christopher Durham is a thought leader, consultant, strategist and retailer with close to 20 years of real-world retail and corporate experience, creating, launching and building numerous billion-dollar brands. While working at Lowe's Home Improvement, he developed and implemented Private Brand portfolio strategy for their portfolio of Private Brands as well as creating and managing several of their billion dollar brands. Prior to Lowe's, he served as Brand Manager at Delhaize America where he developed and delivered retail brand marketing as well as Private Brand strategy and development for Food Lion, Bloom, Bottom Dollar and Harvey's.
His influential website, My Private Brand, is the most widely read daily publication on Private Brands in the world and the leading resource for retailer owned Brand development, strategy, analysis, best practices, news, information and jobs.
About Perry Seelert
Perry Seelert is a retail branding and marketing expert with a passion for challenging conventional strategy and truths. Recognized as one of the leading authorities on retailers' proprietary brands, he has shaped clients' programs directly across four continents. Perry is the former Co-Founder and Strategic Partner of United, where he partnered with Pepsi, Lowe's Home Improvement, CVS, A&P Supermarkets, Hearst Corporation and Starwood Hotels on how best to optimize their brands for the future. He is the former Chief Marketing Officer of Daymon Worldwide, and was one of the first to lead the shopper marketing revolution as VP/Management Director at Saatchi & Saatchi.
For more information: My Private Brand