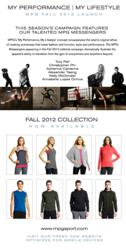 'MPG is the perfect mix of functionality and style. It brings a sexiness to work out apparel which means I can easily transform from my day in the studio to a night on the town.'
-Tory Peil, ballet & contemporary dancer
Winnipeg, MB (PRWEB) September 06, 2012
Canadian activewear apparel label, MPG Sport, has launched its 2012 Fall 'My Performance, My Lifestyle' Collection that continues the brand's original philosophy of melding fashion forward designs with technical, performance-enhancing fabrications and detailing on pieces such as tank tops, yoga pants/capris, t-shirts and outerwear. Despite the brand's further insistence upon imbuing its collections with fashionable styling, moisture-wicking, 4-way stretch, breathability and quick drying properties remain integral components of every garment to ensure performance is never sacrificed. Each season presents an opportunity for the MPG designers to find ever more creative methods of uniting the seemingly opposite worlds of sport and fashion in perfect harmony. The result is a complete line of garments that transcend the gym or yoga studio to be worn dressed up in casual environs, especially important to individuals unwilling to sacrifice style for comfort.
The 'My Performance, My Lifestyle' campaign features 'models' who are first and foremost athletes, dancers and performers and are able, in the images and videos created this season, to show the garments in both active and fashion settings. The individuals in this season's campaign, the MPG Messengers, are as follows:
Annabelle Lopez Ochoa, world renowned ballet and contemporary dance choreographer
Christopher Phi, hand-balancer and aerial artist
Tory Peil, ballet and contemporary dancer
Adrienne Canterna, ballet and contemporary dancer
Alexander Tseng, nationally ranked collegiate track athlete
Kelly McDonald, acrobat/performer with 'Le Rêve' at the Wynn Hotel Las Vegas
The images and video were shot by Seattle-based Marc von Borstel and Brian Liepe, respectively, and depict the models both in their traditional training and performing settings but also, in a departure from conventional activewear photo shoots, in a fashion studio where the artists and athletes have been styled and glamourized to illustrate both aspects of the collection.
Coinciding with the launch of the 'My Performance, My Lifestyle' campaign, the MPG website has been dramatically updated to further enhance the experience of both consumers and retail partners.
About MPG:
Founded in 2004 as a division of Mondetta Clothing, MPG, in its continuing efforts to create fashion forward active apparel, bridges the gap between performance and lifestyle to create entire collections that transition from one to the other with an innate versatility absent from other brands in the market. And although much of the original inspiration for the brand and its aesthetic was shaped by dance and dancers, MPG has found fans across a wide spectrum of individuals in pursuit of athletic excellence, including a large segment practicing yoga. From a handful of retail outlets in 2004 and 2005, the brand is now carried in over 450 outlets across North America including some of the most prestigious sports retailers, gyms/spas and yoga studios in the US and Canada. Looking forward, the company plans on continuing opening more doors to both big box retailers as well as smaller locations.