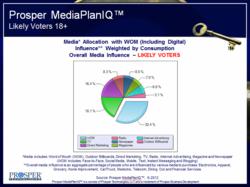 New Word of Mouth Provides Opportunity; Facebook is Key
Worthington, OH (PRWEB) September 20, 2012
Presidential campaigns tend to rack up the biggest media bills on TV advertising. On TV alone, the two candidates and their supporters are reported to have spent $473 million to date. But in an age when digital technology is re-inventing traditional word of mouth, TV may not garner the biggest bang for the buck. To put it in perspective, BIGinsight™ conducted a special analysis using Prosper MediaPlanIQ™ to identify which media influence—and which ones don't—key voter groups to purchase, because at the end of the day it comes down to Americans "buying" what presidential hopefuls are "selling."
With digital technology aiding in the evolution of how people communicate, social media, mobile, instant messaging and blogging should be considered in the WOM equation. This "new" Word of Mouth trumps TV by 79% and becomes a viable medium when weighted by consumption to influence likely voters.
Prosper MediaPlanIQ™ Allocation Model* – Overall Media Influence**
Likely Voters
WOM*** -- 32.4%
TV -- 18.1%
Direct Marketing -- 16.4%
Radio -- 8.3%
Newspaper – 8.0%
Magazines – 7.0%
Internet Advertising -- 6.8%
Outdoor Billboards – 3.1%
Source: Prosper MediaPlanIQ™, JUN-2012
*Media influence is weighted by consumption
**Overall media influence is an aggregate percentage of people who are influenced by various media to purchase: Electronics, Apparel, Grocery, Home Improvement, Car/Truck, Medicine, Telecom, Dining Out and Financial Services
***WOM includes: Face-to-Face, Social Media, Mobile, Text, Instant Messaging and Blogging
MediaPlanIQ™, developed in collaboration with Don Schultz, Ph.D., and Martin Block, Ph.D., of the Medill School at Northwestern, estimates the impact on overall influence of changes to businesses' media allocation plans.
See report for Prosper MediaPlanIQ™ Allocation Models for key likely voter groups including Young Voters, Blacks, Hispanics, Walmart Moms and Undecided Voters.
Millions of people are having conversations about President Obama and Mitt Romney on Facebook (at time of writing, 3.7 million were "talking about this"). Hispanics, Blacks, Young Voters, Walmart Moms and Undecided Voters are more prone to use social posts to give and seek advice, according to additional analysis of the BIGinsight™ Media Behaviors & Influence™ Study.
When giving advice to friends and family, Young Voters and Walmart Moms are especially likely to post on their friend's walls, as well as ask for advice from their social followers. Hispanics and Undecided Voters are more likely to seek advice using Facebook than they are to give it:
Give Advice by Posting to Friends on Facebook
(Likely Voters)
Young (18-29): 30.7%
Blacks: 15.5%
Hispanics: 17.1%
Walmart Moms: 28.2%
Undecided: 18.8%
Seek Advice by Asking Facebook Friends
(Likely Voters)
Young (18-29): 34.5%
Blacks: 15.2%
Hispanics: 20.5%
Walmart Moms: 28.6%
Undecided: 20.6%
Source: BIGinsight.com
Further, email (38.5%), using a mobile device (22.5%) and texting (22.8%) are top ways Likely Voters give advice besides traditional face-to-face communication. These digital word of mouth methods are even more popular among Young Voters and Walmart Moms.
Good news for both candidates—both achieve excellent Klout scores, meaning others are influenced to interact with them through social media. Whether these shared posts or tagged mentions are positive or negative could reflect at the polls.
About BIGinsight™
BIGinsight delivers customized timely market intelligence from various sources through its cloud-based technology-driven Integrated Solutions Platform. Solutions are delivered on multiple devices (PC/Tablet/Smartphone) though the InsightCenter™ tool using diverse information sources relevant to clients' business needs.
________________________________________
Contact:
Chrissy Wissinger
(614) 846-0146
chrissy(at)BIGinsight(dot)com