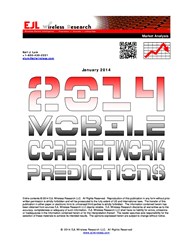 "Network function virtualization (NFV) is expected to see much interest from mobile operators and gain traction."
Salem, NH (PRWEB) January 06, 2014
EJL Wireless Research is unveiling its predictions for wireless mobile core network for 2014 in a new white paper.
"We are releasing our predictions for 2014 for the mobile core network with a key trend being Multiprotocol Label Switching (MPLS) technology at the mobile network edge gaining market share worldwide over Carrier Ethernet (CE) technology" said founder and President, Earl Lum.
"With regards to the much hyped software-defined network (SDN), it will continue to remain hype in 2014 however network function virtualization (NFV) is expected to see much more interest from mobile operators and gain traction ," says Lum.
Other mobile core predictions include:
VoLTE continues field trials but with limited deployments
P-OTN continues to replace SONET/SDH
SyncE will continue to replace legacy Ethernet
GNSS will be primary sync method for TDD-LTE mobile networks
EJL Wireless Research continues to lead the wireless market research segment with innovative and cutting edge research such as its DNA-I series of products and a complete portfolio of market analysis reports from antennas to base stations.
The white paper is currently available for downloading at http://www.ejlwireless.com.
About EJL Wireless Research
EJL Wireless Research provides proprietary, accurate and cutting-edge market analysis and consulting services on the wireless technology ecosystem and defense and aerospace industries. The firm's wireless infrastructure research division focuses on all vertical elements of the wireless ecosystem including mobile subscribers, mobile operators, mobile handsets, mobile infrastructure and mobile content. In addition, the firm provides analysis across horizontal technology suppliers including RF semiconductor materials, RF semiconductor/components, subsystems and OEMs. Similarly, the defense and aerospace division focuses it efforts on the ecosystem supporting UAV and airborne platforms and subsystems. Our goal is to provide our clients with mission critical market analysis and information.
EJL Wireless Research believes it has a corporate responsibility, both local and international, in giving back to the community. Please visit our website for more information about the charitable organizations it supports at: http://www.ejlwireless.com/corporate_responsibility.html.
EJL Wireless Research is managed by Earl Lum. Mr. Lum has over 20 years of experience within the wireless industry including 8 years as an Equity Research Analyst on Wall Street cover the global wireless industry. The company is headquartered in Salem, NH. For more information about EJL Wireless Research, please visit the company's websites at http://www.ejlwireless.com or http://www.ejldefense.com.