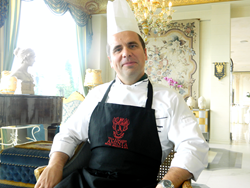 Chef Vigna tells Mr. & Mrs. Italy - I love Piedmont, so one of the most important things for me is to also offer our diners the typical dishes of this area.
Stresa, Lake Maggiore (PRWEB) July 22, 2014
Considering his growing renown as one of the top chefs in Italy, Guiseppe Vigna is remarkably down-to-earth. Beneath the formal crispness of his stark white chef's toque, his face is open and warm, punctuated by expressive brown eyes. He smiles easily when discussing his culinary journey from his boyhood home on the shores of Orta Lake in Piedmont to executive chef at Carta's in the five-star luxury Villa e Palazzo Aminta Hotel Beauty and Spa.
Extensively trained in schools and kitchens throughout Italy, the 43-year-old Vigna has been with Villa e Palazzo Aminta since 2005. Under his direction, the restaurant has rapidly gained a reputation as one of the top restaurants on Lake Maggiore showcasing impeccable service, an elegant atmosphere with incredible views, and Vigna's carefully crafted menu, which combines the international sophistication one expects from cuisine at a five-star property with the spirit of his biggest culinary influence: his mother's cooking. "I grew up in her kitchen," he says. "And today I still cook those dishes that I knew as a kid. I love Piedmont, and of course the restaurant is located in Piedmont, so one of the most important things for me is to also offer our diners the typical dishes of this area."
Only the freshest ingredients are used: local produce, meats, poultry, lake and sea fish, mushrooms and truffles from Alba, and the best cheeses from both Piedmont and nearby Lombardy, including ricotta, Gorgonzola, Mottarone, and Belmonte.
In addition to his love of the region and its traditions, Vigna also loves to experiment. "All the chefs I have met and will meet in the future, they are also influences," Vigna asserts. "Even though I have my own way of cooking, I remain open minded, open to learning."
For his signature local fish and artichokes Tempura with sabayon of Porto and Tahitian vanilla, for instance, Vigna mastered the art of Asian tempura and added an unexpected spice—Tahitian vanilla—for a delightful juxtaposition of delicate textures and bold flavors.
Of all the wonderful pastas dishes, the "plin" pinched ravioli stuffed with four kinds of roast meat is a standout, and carnivores should also not pass up the buttery Fassone fillet in Nebbiolo wine with shallots and fried potatoes. Vigne's deserts are equally outstanding, most especially the "Oro e Cioccolato" Gold and Chocolate orb served nestled in an edible shell of spun gold, which tastes as remarkable as it looks, unquestionably chocolate at it's very best!
The overall result is an impressive array of dishes that are earthy but with an artistic flare, at once honoring the traditions of Vigna's homeland while creatively pushing the limits of its boundaries.
When he's not spinning his culinary magic in Carta's gourmet kitchen, Vigna is a family man, married to a pastry chef with whom he has three children, 8, 7, and 4 years old. Not surprisingly, the entire family enjoys cooking together, the youngsters looking on and helping as Vigna prepares their favorite dishes, accompanied by ingredients he picks from his home garden.
As for what distinguishes him from other chefs, Vigna answers with characteristic modesty. "Each chef is different, because they each bring their own life and family history to their dishes. While I can do dishes that other chefs do, using the same ingredients, I'm going to do it with a different spirit. It's just like any other artist; everyone uses brushes and paint, but the picture is always unique."
About Company: David & Debra Levinson, talked about by Italian hoteliers and aficionados as "Mr. & Mrs. Italy," uncover Italy's best luxury hotels for outstanding culinary experiences!
Download Mr. & Mrs. Italy Luxury eBook Guides
Visit Mr. & Mrs. Italy at New York Times Travel Show - Jacob K. Javits Convention Center, N.Y.C. — Halls 3D/E January 23 - 25, 2015 Booth #469.