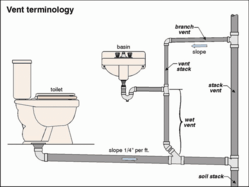 Instead of running expensive revent loops, install an AAV in the drain line at the fixture
Pittsburgh, Pennsylvania (PRWEB) August 15, 2012
According to Bob Beall, Mr. Rooter Plumbing president of the Northeast Ohio and the Southwest Pennsylvania area, the purpose of a vent line is to prevent the water in the traps from being pulled out by a vacuum caused when rapidly running waste water flows down a pipe.
"Vent line theory and technology have evolved substantially over the years," says Mr. Rooter. Early system design called for one vent for every fixture. Then we found out we could have a common vent system for several fixtures and vent them with a single pipe. "The latest innovation," says the most referred plumber, "is the air admittance valve (AAV), which replaces individual vent lines running through the roof."
AAVs are accepted by all the accredited agencies but are still prohibited in some localities. If codes prohibit their use in your area, it will be necessary to run an individual vent from a fixture or install drainpipe from the fixtures to a line sized to prohibit the formation of a vacuum. Beall says, "In some instances a very expensive loop of pipe can be created, as some do for an island drain in a kitchen."
WORKING AROUND OBSTRUCTIONS
Tip #1 Window behind a sink will not allow vent line to be installed, and can't go around sink.
Tip #2 Use 2-inch drain line in a wall from sink drain to 3-inch main drain.
Tip #3 If you cannot run an individual vent because of a window, use an over-sized drainpipe. Because the pipe can't fill with water, it won't siphon the trap.
or…
Tip #1 Window behind sink will not allow vent line to be installed, and line can't be run around window.
Tip #2 AAV
Tip #3 1 1/2-inch drain line.
Tip #4 Install an AAV in the fixture drain line before the line enters the wall. Such an installation avoids the necessity of running a vertical vent line.
INSTALLING A FIXTURE VENT
Tip # 1 Before running a vent line horizontally, the vertical vent section must travel at least 6 inches above the flood rim of the fixture it is venting. This keeps sludge from setting in the vent line in case of a backup.
VENTING WITH AN INVERTED T-FITTING
Tip #1 Install a sanitary T-fitting upside down to allow the vent gas to flow upward and out the vertical vent more easily.
Tip #2 Branch the vent line to the roof.
Tip #3 Sewer gasses easily follow the interior curvature of the upside down T-fitting.
Tip #4 Add upside-down sanitary T-fitting and then vent to the main drain.
VENTING IN JOIST SPANS
Tip #1 Venting within the Joist Span: Use a street 90 to point the pipe to the nearest wall to make it easy to vent a drain line.
Tip #2 Venting outside the Joist Seam: Extend the inlet pipe and use two 90s to get to the vent wall.
AVOIDING VENT CLOGS
Tip #1 Never take off for a vent air beyond 45 degrees from vertical. Below 45 degrees from vertical, a vent line can plug up with water and debris.
BONUS TIP: Instead of running expensive revent loops, install an AAV in the drain line at the fixture. Very large AAVs are available on the market today and can vent an entire branch (a pipe off the main line going to several fixtures) at one time.
Mr. Rooter's Daily Tips are provided by Mr. Rooter Plumbing.
Subscribe today! (top right corner)
There's A Reason They Call Us Mr.™
Help Mr. Rooter Help Landon with less than 80 days left to our campaign!
Landon O'Hara Campaign
Mr. Rooter Plumber, 22, Fatal Accident: Leaves Behind Son
Debra Santavicca PR, SMM, WebIT
Mr. Rooter Media Center
724-553-9510
http://www.mrrootermedia.com
http://www.rooter2.com