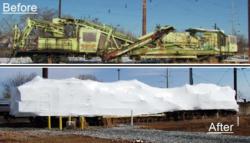 Media, PA (PRWEB) April 20, 2011
Mr. Shrinkwrap Protective Services, Inc., an industrial packaging and protective covering company (http://www.mrshrinkwrap.com) announces the completion of an equipment preservation project for Amtrak at their Wilmington, DE facility. Amtrak contracted with Mr. Shrinkwrap to provide shrinkwrapping services for the preservation of a hi-rail undercutter, a large piece of track mounted equipment used in maintaining Amtrak's rail infrastructure.
Sensitive equipment protected from the elements while idle in storage
The undercutter is machine used in track maintenance that removes the old stones, or ballast material from the track, screens it and returns the "cleaned" ballast along with new stones to the track area. The ballast must be cleaned to promote proper drainage of the track area. While the undercutter was not being used, managers at Amtrak wanted to protect the unit from damage due to exposure to the elements. Since the undercutter is over eighty (80) feet long, to store it indoors for a year or more would take up valuable space; and so it was determined that shrinkwrapping the unit was a more effective solution. Amtrak personnel contacted Mr. Shrinkwrap about adapting their industrial shrink wrap services to their needs for the undercutter and the planning phase began.
Safety First
In order to be permitted to work on and around working railroad tracks, Mr. Shrinkwrap attended Amtrak's Contractor Safety and Security Training at 30th Street Station in Philadelphia, PA. During the training Mr. Shrinkwrap's crew of mobile shrink wrap installers were trained on various aspects of safety, operations and security for contractors working along Amtrak's right of way. To complete the undercutter shrink wrap project, Mr. Shrinkwrap would work in tandem with Amtrak's electrical and track crews to maintain a safe and secure working environment.
Installing the protective barrier – shrink wrap
Once on-site, Mr. Shrinkwrap prepared the unit by padding many of the sharp corners and parts that could damage the shrink film and then their crew spread out a thirty six feet by one hundred feet sheet of shrink film over the entire unit. Once the shrink film was secured to the undercutter with poly-strapping around the perimeter, the film was shrunk into place forming a drum-tight protective barrier that will prevent rain, snow and UV light from damaging the specialized piece of equipment.
About Mr. Shrinkwrap Protective Services, Inc.
Mr. Shrinkwrap Protective Services, Inc. provides on-site shrink wrap services across the US and is a leading distributor of shrink film heat guns, shrink wrap tape, preservation tape, stretch wrap, self adhering films, and shrink wrap supplies. Mr. Shrinkwrap provides a variety of commercial, industrial, and residential shrink wrap applications.
Since 1991, Mr. Shrinkwrap has evolved from a local boat covering service, to a thriving business with a national scope, offering on-site shrink wrap services and becoming a leading distributor of shrink film, heat guns, shrink wrap tape, preservation tape and shrink wrap supplies. Mr. Shrinkwrap has been asked to provide shrink wrap services for objects as diverse as outdoor furniture and amenities to nuclear power turbines.
###