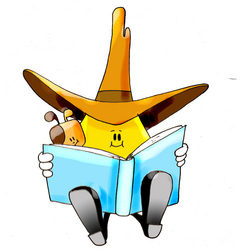 Turn off the television, throw away the play station, and read your kid a book. It's the right thing to do.
Springfield, MO (PRWEB) August 22, 2007
A life long advocate and promoter of reading to children, MrDuz.com LLC founder Patrick Wellman isn't surprised by the news about baby videos and DVDs. In fact, this month he released "Mr. Duz Goes to the Dentist" in an effort to combat illiteracy and poor social skills that he believes are being created by a combination of television programming, video games and a lack of entertaining developmental reading material. "We feed kids good food for their bodies, we should read them good books for their brains," says Wellman. "Turn off the television, throw away the play station, and read your kid a book. It's the right thing to do."
Mr. Duz and his dog, Molly, are the wholesome and inspirational subjects of Mr. Duz books. The books present simple stories about every day life events such as going to the dentist. Mr. Duz books feature full eight and a half by eleven page illustrations that are bright, cheery, uncluttered and easy to understand. The text is a brief narrative that tells the story of Mr. Duz through a simple narrative designed to speak to the child without being preachy. The second book, "Mr. Duz Goes to the Doctor" will be released in September and "Mr. Duz Trick or Treat" will prepare children for Halloween in October. The company plans to release sixty books over the next five years. "Mr. Duz always does the right thing," says Wellman. "In fact, we guarantee it. I might be crazy, but I stand behind the lessons found in every Mr. Duz book."
With a new book coming out every month, the company's biggest challenge is keeping the concept fresh. "We made a list of things that children have to do at some point in their young lives and we walk them through it with Mr. Duz. Studies have shown that the more a child understands about a situation, the more likely they are to succeed. Children can't find role models on television," says Wellman. "Children need to find role models at home, through their parents. The easiest way for a parent to be a role model is to lead by example. Mr. Duz gives parents a venue to show children what to expect in certain situations. Mr. Duz teaches that doing the right thing is its own best reward."
Mr. Duz books will be available in book stores as they are released, but are currently available online at MrDuz.com and at Amazon.com. The company is dedicated to promoting reading through the development of good reading habits. "A new book comes out each month, so children look forward to receiving the next edition. The anticipation and excitement created by receiving their very own book each month will lead to a love and joy of reading," claims Wellman. The author also stresses that books can be purchased individually or as a subscription.
Free sample copies of Mr. Duz books are available online at http://mrduz.com . "Parents should be able to view a book before buying," insists Wellman. The PDF files are easy to download and review. Free games, puzzles and coloring pages are also available on the website, along with a spelling game and a fun facts page that offers interesting facts that relate to this months Mr. Duz book.
"We live in a world of bad examples," says Wellman. "We need to give our children an alternative to misbehaving celebrities; drug enhanced super athletes, violence on television and in video games, and mindless images that teach nothing. Reading is the perfect form of entertainment. It's good nutrition - for the brain."
About Patrick Wellman
Mr. Wellman was born in San Francisco in 1960. He attended Carlmont High School in Belmont, California, and college at Southern Utah University. He currently resides in Springfield, MO. Mr. Wellman is available for interviews by phone at 417-860-8928. For more information, visit http://www.patrickwellman.com.
# # #