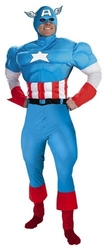 Alpharetta, GA (PRWEB) October 11, 2008
Mr. Costumes, a premier online retailer for quality costumes and accessories in the U.S. has teamed up with announcers Lynn, Bill and KC of KKNG 93.3 FM 'King Country' in Oklahoma City, Oklahoma to sponsor the morning show's Annual Listener Halloween Party.
On Monday, October 13th at 8:40AM Central Time (9:40AM Eastern Time), a representative from Mr. Costumes (http://www.mrcostumes.com) will be live on-air with Lynn, Bill and KC during their morning show to announce Mr. Costumes' official sponsorship of the Annual KKNG 93.3 FM Listener Halloween Party taking place on October 31st at Toby Keith's Restaurant in Oklahoma City, Oklahoma.
As this year's official costume supplier, Mr. Costumes is providing Lynn, Bill and KC with the designer costumes they'll be wearing at the event. In addition, Mr. Costumes has extended a special, limited time offer to KKNG listeners, presenting them the opportunity to purchase Halloween Costumes from the Mr. Costumes website this month at a significant discount. The special KKNG listener discount covers Mr. Costumes' entire stock of premium costumes for kids, teens and adults including popular favorites like the Hannah Montana Costume, Joker Costume, Star Wars Clonetrooper Costumes, Disney Costumes, Sexy Costumes, Political Masks and much more.
This year, announcer Lynn will attend the Annual KKNG Listener Halloween Party dressed in one of Mr. Costumes' famed Superhero Costumes - the Captain America Muscle Suit. Announcer Bill will don a hilarious Radioactive Man Costume and announcer KC is expected to arrive wearing a stunning Evil Queen Costume. Other adult favorites likely to make an appearance at this year's event include the top-selling, Racy Robin Hood Costume and the popular, Bounty Hunter Dog and Beth Costume.
Commenting about KKNG and the upcoming holiday, Chris Miller, co-founder of Mr. Costumes said, "We are proud to be this year's official KKNG Oklahoma City costume supplier and Lynn, Bill and KC's exclusive choice for premium Halloween costumes. This Halloween, MrCostumes.com will have the privilege of outfitting countless Americans attending parties in cities all across the country. We are confident that our costumes will make an impact and that our customers will celebrate in-style, and no doubt in the spotlight."
About KKNG:
KKNG 93.3 FM 'King Country' in Oklahoma City, Oklahoma is a member of the Tyler Media family of stations. The morning show on with Lynn, Bill and KC airs weekday mornings from 5AM to 9AM CT.
About Mr. Costumes:
Mr. Costumes is a leading nationwide retailer of high quality Kids and Adult Costumes for every occasion. The company offers a premium line of Sexy Costumes, Plus Size Costumes and Couples Costumes for the imaginative consumer. Their products are designed to look amazingly authentic while providing comfortable, breathable materials that also make them enjoyable to wear.
For more information about Mr. Costumes visit http://www.mrcostumes.com or call 877-595-1031.
Contact:
Aaron Hassen, 877-595-1031, Ext. 5016
Email: media @ mrcostumes.com
###