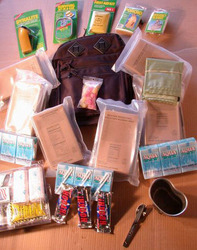 We've been at the forefront of educating people on the importance of disaster preparedness
Fulton, NY (PRWEB) September 24, 2009
With the first Atlantic hurricane of the 2009 storm season affecting the northeast coast of the United States and Newfoundland, Camping Survival.com is again reporting a steady increase in sales of emergency supply kits, urban survival kits and other equipment to assist people in weather emergencies and natural disasters.
Camping Survival.com, the leader in disaster preparedness, has reported that the popularity of emergency kits, "go bags," MRE (Meals Ready to Eat) and first aid kits has greatly risen in recent years, as more families recognize the importance of being prepared in a crisis.
Fortunately, Hurricane Bill - which weakened to a tropical storm - delivered what amounted to a glancing blow to Newfoundland before heading off to the east. The storm received some additional notoriety for having delayed President Obama's family vacation and jeopardizing the Clinton's vacation in the Bahamas. Hurricane Bill's close call was also enough to remind many families to evaluate their current stash of home emergency supplies in the event of a sudden evacuation or loss of services.
"We've been at the forefront of educating people on the importance of disaster preparedness," said Tom Sciacca, President of Camping Survival.com. "After all, rescue personnel can't respond instantaneously to everyone who needs help, but an emergency survival kit or 'go bag' provides essential items individuals or families should have in the event of a natural disaster, such as MRE (Meals Ready to Eat), first aid kit, water purification, radio and other items."
Sciacca, a former Marine and veteran of the 1991 Gulf War, launched Camping Survival.com in 2002, and quickly earned a reputation as an online authority on camping and wilderness survival gear, creating a loyal following of customers. Sciacca's personal military experience, however, also drove him to spread the word about disaster preparedness and ensured that his product offerings included urban survival equipment. These emergency supplies are vital when services get cut off in a disaster.
Some survival kits, he explained, are made to help an individual or a family escape quickly, while others can sustain them for long periods in one place, without electricity or water. People who get caught unprepared, he said, put a strain on the system for everyone.
"People have no emergency supplies on hand, which can cause panic in the event of a hurricane, earthquake, flood or other natural disaster," Sciacca commented. "There is a tendency to rush to the store, jam the streets or otherwise overwhelm police and fire personnel. Those who plan ahead, though, are in a better position to protect their families, friends and loved ones from danger."
Among the items recommended by the National Hurricane Center:

Three to seven day supply of non-perishable food
Extra clothing, including rain gear
• Pillows and blankets

• First aid kit
• Water (1 gallon per person, per day)
Sciacca notes that Meals Ready to Eat (MRE) are non-perishable and can be prepared much more easily than typical household food. And because bottled water can run out quickly, he advises that a water filter be kept on hand.
"Whether it's an urban survival kit, a "go bag" or some combination of emergency supplies, it's critical for Americans to seriously consider the well being of their family," Sciacca continued. "Being unprepared for an emergency strains our infrastructure and can even put our loved ones at unnecessary risk. I can't imagine why a person wouldn't make this investment in safety."
Contact: Tom Sciacca
http://www.campingsurvival.com
# # #