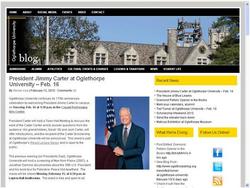 mRELEVANCE…because all MARKETING should be RELEVANT…
Atlanta, GA (Vocus) February 17, 2010
mRELEVANCE is pleased to announce the new Oglethorpe University blog: http://www.oglethorpeblog.org. An accredited liberal arts college in Atlanta, Ga., Oglethorpe University offers undergraduate and master's degree programs. The university's new blog will keep prospective students, the current student body and alumni up to date on school news and events.
"The Oglethorpe blog is the cornerstone of the University's social media presence. It will not only provide information to prospective students, current students and alumni, but it will provide ways to engage the University online via Twitter, Facebook and other sites," said Carol Flammer, managing partner for mRELEVANCE and Oglethorpe University graduate. "In this fast paced Internet driven world, it is important to be ALL of the places that your target audiences are looking for you online. Oglethorpe recognized that need and the blog effectively ties it all together for them. Look for ways to interact with Oglethorpe University online as they seek ways to create a digital relationship with you."
The blog contains information on all aspects of student life including admissions, traditions, athletics, study abroad and student news. Alumni have a section devoted to news, events and giving. The social media section of the blog links to Oglethorpe's other social media sites such as Twitter or Facebook, as well as connects students to faculty and alumni who have personal blogs.
About Oglethorpe University:
Located in Atlanta and founded in 1835, Oglethorpe University enrolls 1,100 students representing 34 states and 36 countries. The Princeton Review's The Best 371 Colleges 2010 lists Oglethorpe among the Best Southeastern Colleges, and ranks Oglethorpe at #20 for its Professors, #17 for Best College Theater, and #10 for class/race interaction. Oglethorpe is Georgia's only coeducational member of the Annapolis Group, an organization of America's most selective liberal arts institutions. Since 2006, Oglethorpe has been named annually to the President's Higher Education Community Service Honor Roll for commitment to and achievement in community service. The university plays in the NCAA Division III Southern Collegiate Athletic Conference. Website: http://www.oglethorpe.edu
About mRELEVANCE:
mRELEVANCE, LLC, is an Internet marketing, social media and public relations firm that specializes in social media for home builders and new home marketing, designed to meet client needs in a changing marketplace by building online and off line relationships that are relevant to client success. Combining the talents and resources of public relations and social media firm Flammer Relations with the power of Internet marketing services at MLC New Home Marketing, mRELEVANCE implements a combination of traditional PR services and up-to-date Web 2.0 tools (e-mail marketing, search engine optimization, social media and others) to create relevant results for clients. With offices in Atlanta and Chicago, we can connect your company with buyers and build relevant relationships nationwide. For more information, visit http://www.mRELEVANCE.com, Fan us on Facebook at http://www.Facebook.com/mRELEVANCE, Follow us on Twitter @mRELEVANCE or call 770-383-3360 or 847-259-7312.
"mRELEVANCE…because all MARKETING should be RELEVANT…"
# # #