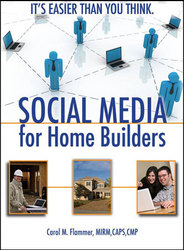 Social Media for Home Builders: It's Easier Than You Think
Atlanta, GA (Vocus) March 10, 2010
Carol Flammer, managing partner of Internet marketing, public relations and social media firm mRELEVANCE, LLC, helps home builders and real estate professionals navigate the world of social media with her new book, "Social Media for Home Builders: It's Easier Than You Think." Released by BuilderBooks, the publishing arm of the National Association of Home Builders, the straightforward guide walks readers through building a social media program and measuring return on investment (ROI).
As the newest form of permission-based marketing, social media marketing programs can build brand, engage consumers and increase leads for home builders. Flammer builds a case for the importance of social media programs then guides newcomers and experienced online marketers alike through the components of planning, set up, implementation and evaluation. Site-specific instructions tell readers how to build a presence on universal outlets like Facebook and Twitter and industry-specific sites such as Trulia and ActiveRain.
Nicole Nicolay, author of Agent Evolution, says, "Flammer provides you with the know-how to create a powerful online home base (your business blog/Web site) and gives you the subsequent skills to direct targeted traffic from a variety of social networks back to your Web site. ['Social Media for Home Builders' is] an absolute must-read for home builders looking to gain online exposure, reach their target audience, and distance themselves from the competition."
"Social Media for Home Builders: It's Easier Than You Think" was released at the International Builders Show in January 2010, selling out in just three days. Now in its second run, the 112-page, soft-cover book costs $15.95 or $13.95 for NAHB members and is available for purchase at http://www.BuilderBooks.com, by calling 800-223-2665 or electronically on the Amazon Kindle.
With 20 years of experience, Carol has established herself as the "go to" for real estate and construction products public relations and social media. Carol is president of Flammer Relations, Inc., and managing partner of mRELEVANCE, LLC, an Internet Marketing, Social Media and Public Relations firm that specializes in social media for home builders with offices in Atlanta and Chicago.
Carol has spoken at a number of tradeshows including the International Builders Show, 21st Century Building Show and the Southern Building Show. She frequently teaches social media seminars around the country. She is the visionary behind the nationally-ranked and award-winning Atlanta Real Estate Forum, Atlanta's most popular real estate blog. Her launch of the site in 2006 was revolutionary and led the new media movement in the Atlanta new homes market.
About mRELEVANCE:
mRELEVANCE, LLC, is a public relations, Internet marketing and social media firm that operates at the intersection of social and search to build online and off line relationships. Effectively syndicating well written, targeted content through the power of traditional public relations, social media and search engine optimization, we create relevant, measurable campaigns with proven Return on Investment. Our case studies and client successes speak for themselves. When you are ready to increase your Web site traffic by 50 – 200 percent, contact a member of our team. With offices in Atlanta and Chicago, we can connect your company with buyers and build relevant relationships nationwide. For more information, visit the mRELEVANCE Web site, Fan us on Facebook, Follow us on Twitter @mRELEVANCE or call 770-383-3360 or 847-259-7312.
"mRELEVANCE…because all MARKETING should be RELEVANT…"
###