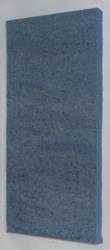 Cotton Armor is the 21st century hybrid sound solution.
Webberville, MI (PRWEB) February 29, 2012
Applegate Insulation is pleased to announce a new line of acoustical panels and baffles meant to fill a growing need for quieter spaces in an increasingly noise polluted world. Noise pollution is an often-overlooked health hazard, which can increase susceptibility to heart disease, hypertension, and may result in many harmful effects such as hearing loss, tinnitus, increased stress and sleep deprivation.
Cotton Armor is the 21st century hybrid sound solution; utilizing the ancient acoustical properties of cotton, technologically coupled with a proprietary production process resulting in a sustainable high performance defense against unwanted sound. Cotton Armor contains 85% recycled content and utilizes cotton denim fibers, making it an environmentally sustainable sound control solution. It's non-irritating and as safe to use as your favorite pair of jeans.
Cotton Armor Sound Panels are 2' by 4' and available in one and two inch, three-pound density baffles. Applegate's recently conducted Sound Absorption Ability (SAA) and Noise Reduction Coefficient (NRC) testing revealed that the panels earned NRC ratings of .90 (1") and 1.05 (2"), and SAA ratings of .88 (1") and 1.04 (2"). Cotton Armor's naturally high SAA and NRC ratings make it ideal for churches, hospitals, hotels, schools, theaters, offices, commercial, industrial and residential buildings in which sound control and the ability to hear others is critical for a balanced life.
The 21st century fiber process, allows installers to create custom and one-off designs with Cotton Armor using just a utility knife. Cotton Armor is also available in R-13, R-19 and R-21 acoustical insulation blankets with STC ratings into the 60's, and can be covered with acoustical fabric to match interior design schemes.
Test results in Sabines are available for both one and two inch Cotton Armor Sound Baffles.
Established in 1978, Aaron and his son Terry Applegate began manufacturing cellulose insulation out of a small facility in Okemos, Michigan. Today, Applegate headquartered in Webberville Michigan, is the largest privately-owned cellulose insulation manufacturer in the world, and supplies a variety of insulation products throughout the United States. Applegate currently operates facilities in Michigan, Wisconsin, Pennsylvania, Kentucky, Georgia, Louisiana, and Colorado. For additional information regarding Applegate Insulation please visit http://www.applegateinsulation.com to learn more about Mr. Insulate Cotton Armor, visit http://www.mrinsulate.net, or call (855) 6-COTTON.
For editorial interviews, additional information, photographs, industry specs and test results please contact:
Dave Renbarger, 855-6-COTTON, email: mrinsulate(at)mrinsulate(dot)net
###