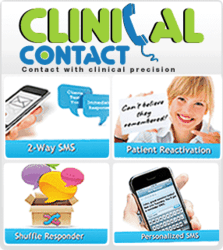 A colorful and personalized card all work in conjunction and screams 'read me' to patients.
Denville, NJ (PRWEB) May 05, 2012
"Patients are exposed to several hundred marketing messages a day," said Chhoda. "To cut through the clutter and identify with clients on an emotional level, you have to stand out and humor offers a perfect vehicle. At the end of the day, patients are human beings like everyone else and like to laugh."
Nitin Chhoda, a physical therapy marketing expert, noted that humorous quotes, stories and cartoons are all ways that can be used to bring a smile to a patient's face. Humor doesn't have to result in a belly laugh; it simply needs to be something with which the client can identify at the emotional level. The ultimate purpose is to remind the individual of the practice and the provider, and that can be accomplished in a number of ways.
Postcards are the preferred method, providing a relatively inexpensive means of reaching established patients and prospective new clients. He noted that systems such as Therapy Newsletter can also be used to deliver the desired message, as can Clinical Contact. They provide the means to personalize handwritten mail for busy medical professionals, without the need to do all the writing.
Despite living in the digital age, Chhoda said a personalized mailing still results in a better return on investment, provided the medical professional can get the reader's attention. A postcard or personal note reaches patients in their homes where they're most relaxed and more likely to take the time to read a postcard or note. Communications should mention the recipient's name at least twice for psychological impact.
Patients typically sort mail into three types - the immediate pile that includes bills, the look at later batch that includes marketing materials, and trash. A colorful and personalized card all work in conjunction and screams 'read me' to patients. Once the missive has their attention, a clever cartoon or message that makes the recipient smile or laugh can easily turn into "refrigerator art" that provides a constant reminder of the practice.
A properly personalized and delivered postcard that makes patients smile combines a variety of marketing physical therapy methods together in a single source for maximum impact. Chhoda's updated tips for reaching clients on an emotional level works equally well for all types of practices, including dental, chiropractic and physical therapy businesses. Patients that associate their health care providers with humor are remembered with fondness, leading to more referrals and new clients.
Chhoda's office can be reached by phone at 201-535-4475. For more information, visit the website at http://www.nitin360.com.
ABOUT NITIN CHHODA
Nitin Chhoda is a licensed physical therapist, a doctor of physical therapy, and a certified strength and conditioning specialist. He's the author of "Total Activation: The New 5 Step Fitness Mantra" and "Marketing for Physical Therapy Clinics." He's been featured in numerous industry magazines, major radio and broadcast media, and is the founder of Referral Ignition training systems, Private Practice Summit, the Private Practice Formula and the Private Practice Mastermind group. Chhoda speaks extensively throughout the U.S., Canada and Asia. He's the creator of the Therapy Newsletter, along with Clinical Contact, a web-based service that boosts patient arrival rates.
###