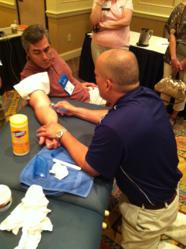 ASTYM is so effective because it doesn't just treat the symptoms of a problem, but actually stimulates the underlying problem so the body can heal itself.
Parkersburg, WV (PRWEB) September 08, 2011
On August 15, 2011 Mountain River Physical Therapy (MRPT) presented at the Annual Richie County Coaches Meeting. Nikki Arnold and Brian Duffy, MRPT therapists, educated over thirty coaches from all over Ritchie County about the benefits of ASTYM therapy at MRPT for athletes.
"During ASTYM treatment athletes are encouraged to continue playing, training, etcetera," explains Burt Reed, PT, OCS, FAAOMPT, physical therapist and MRPT owner. "Players don't experience any set backs from treatment and they aren't exposed to any surgery or drugs. ASTYM is so effective because it doesn't just treat the symptoms of a problem, but actually stimulates the underlying problem so the body can heal itself."
"ASTYM (pronounced A-stim) treatment is a rehabilitation program that stimulates the regenerative healing process of the body," according to the official ASTYM website in 2011. It is non-invasive therapy that provides fast and consistent treatment to muscles, tendons and ligaments. ASYTM reduces scar tissue left behind from old injuries and allows patients to get back to the activities they love.
MRPT's presentation incorporated scientific evidence from Dr. Tom Sevier's National Football League (NFL) Player's Association seminar. Joe Leaman, manager of MRPT's new Athletic Performance Center, presented information regarding the new facility, including speed treadmill training and the Kane Davis Pitching School. The coaches were able to see and feel what their athletes will experience with ASTYM treatment at MRPT for themselves at the presentation as well.
ASTYM treatment can only be provided by certified ASTYM therapists and clinicians undergo extensive education and training to become certified. This treatment is a solution for tough problems, such as plantar fasciitis, for which other treatments have repeatedly failed. ASTYM treatment is superior for long-term conditions such as heel or elbow pain, hamstring or groin injuries, and post-traumatic/post-surgical scarring. It is also very effective on sprains, strains, and other soft tissue injuries.
"Don't be deceived when you first see how the treatment is conducted," says Reed. "Every touch from your physical therapist is a precise movement for a specific purpose with a huge background of knowledge behind it. It looks easy, but don't try this one at home! Without the detailed knowledge of anatomy and physiology that our therapists have, combined with ASTYM training on the particular application of the treatment, you, or someone working on you, could make your injuries and pain far worse."
MRPT physical therapists, Arnold and Reed, treated two softball players from Ritchie County High School with ASTYM treatment. After effective removal of scar tissue and damage from sports related injuries, these players went on to win the West Virginia 2011 Softball State Championship. One of the players, Brittany Knight, also was named State Player of the Year in West Virginia.
About Mountain River Physical Therapy:
Mountain River Physical Therapy (MRPT) is a private physical therapy practice with locations throughout the Mid-Ohio Valley in West Virginia, Ohio and Pennsylvania. Known for utilizing the newest research to deliver the best results as quickly as possible, MRPT physical therapists pride themselves in being spine and sport experts. Their board certified therapists deliver hands-on physical therapy to achieve the best results for patients with bad backs, achy joints, wounded hands, and work injuries. Along the way, the MRPT family has fun and makes friends with their patients (and their pets, their kids, their in-laws, and neighbors….). For more information visit MountainRiverPT.com or find MRPT on Facebook.
###