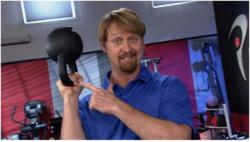 Improving fundamental movement patterns is the cornerstone of all Mountain River Physical Therapy training programs
Parkersburg, WV (PRWEB) June 14, 2011
Gray Cook, MSPT, OCS, CSCS, RKC, physical therapist at Mountain River Physical Therapy (MRPT) in Chatham, Virginia, was featured on the Golf Channel's Golf Fitness Academy on June 6, 2011. Cook, who is known for the development of the Functional Movement Screen with Dr. Lee Burton of Averett University, is a Titleist Performance Institute Senior Advisory Board Member.
In his feature on the Golf Channel, Cook states that "balancing the body will maximize power." Cook demonstrates this with a "neuro drill" that determines the body's connection with grip on a kettle bell. This drill emphasizes core muscle strength and balance. Cook explains that if athletes are able to test their body for balance, listen to feedback, and identify weak areas to work on, they can increase strength and power more effectively.
Cook consults with professional and university coaches and athletes, and teaches various aspects of physical therapy, sports medicine and performance enhancement. He believes in understanding human movement patterns, so incorporates the Functional Movement Screen throughout all of his work.
A Functional Movement Screen is a test to determine "how well you move" and is used to find weaknesses before they affect sports performance or turn into injuries. The screen identifies limitations that can hinder proper function and decrease strength. Research in the February 2010 Journal of Strength and Conditioning suggests that Functional Movement Screens can be "confidently used to assess the movement patterns of athletes and to make decision related to interventions for performance enhancement…and assist in identifying athletes at risk for injury."
MRPT physical therapists provide functional movement screens for their patients so that they can improve fundamental movement patterns, eliminate asymmetries, and set a solid foundation upon which athletes' can improve their performance.
"Improving fundamental movement patterns is the cornerstone of all MRPT training programs," states Burt Reed, PT, OCS, FAAOMPT, physical therapist and MRPT owner. "All of our training programs start by measuring fundamental movements to establish a baseline which is used to guide an exercise program. Objective measures, derived from the functional movement assessment, provide our therapists the feedback necessary to deliver the best results and meet the client's goals."
Functional Movement Screens are not just for top-athletes. Patients of all ages and skill levels will benefit by gaining strength and balance enhancing their return to work, play, or daily activity. Using the Functional Movement Screen, MRPT helps patients identify where they need help, and also educates them on how to make these areas better.
For more information about how physical therapy and Functional Movement Screens at MRPT, visit MountainRiverPT.com or call 304-865-6778.
About Mountain River Physical Therapy:
Mountain River Physical Therapy (MRPT) is a private physical therapy practice with locations throughout the Mid-Ohio Valley in West Virginia, Virginia, Ohio and Pennsylvania. Known for utilizing the newest research to deliver the best results as quickly as possible, MRPT physical therapists pride themselves in being spine and sport experts. Their board certified therapists deliver hands-on physical therapy to achieve the best results for patients with bad backs, achy joints, wounded hands, and work injuries. Along the way, the MRPT family has fun and makes friends with their patients (and their pets, their kids, their in-laws, and neighbors….). For more information visit MountainRiverPT.com or find MRPT on Facebook.
About Golf Fitness Academy:
Golf Fitness Academy is presented by Titleist and is in its seventh season on The Golf Channel. It is a 10-show series helping golfers maximize performance through fitness. The Golf Fitness Academy is hosted by Dr. Greg Rose and Dave Phillips, cofounders of the Titleist Performance Institute. For more information please visit mytpi.com.
###