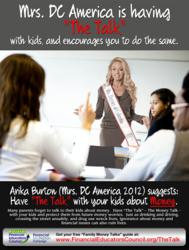 Washington, DC (PRWEB) May 02, 2012
The National Financial Educators Council features Mrs. DC America, Arika Burton, in The Talk Financial Education Awareness Campaign. This encourages parents to have 'the talk' with their children about financial issues they can expect as they mature. The PSA initiative is part of the NFECs' Financial EduNation Campaign which also provides complimentary personal finance resources for individuals and organizations that seek to improve the financial capability of those they serve.
Mrs. DC America, Arika Burton, already serves as the NFECs National Ambassador and is now featured in the national financial literacy PSA Campaign – The Talk. Ms. Burton is a financial consultant in the DC metro area and has received her degree from in Finance and International Business from the University of Maryland. Arika has also completed the International Finance and European Union Study Program to further her expertise on financial matters. Through her in-class studies and personal experiences, she recognized the importance of teaching kids about money.
Burton states, "I am honored to represent our nation's capital, the District of Columbia, and grateful for the opportunity to shine more light on my philanthropic pursuits. Bringing awareness and educating people of the importance of financial independence and how to achieve it is critical and starting with our future business leaders is essential. I couldn't ask for a better team to work with then those at the NFEC."
The photograph for this PSA was provided by Roy Cox Photography. The copy reads - Mrs. DC America, Arika Burton, is having "The Talk" with kids, and encourages you to do the same. Have "The Talk" with your kids about Money. Many parents forget to talk to their kids about money. Have "The Talk" – The Money Talk – with your kids and protect them from future money worries. Just as drinking and driving, crossing the street without looking both ways and drug use can wreck lives, ignorance about money and financial issues can also ruin lives.
Mrs. Burton decided to raise awareness about the financial literacy movement as her as her community platform. Besides preparing for the Mrs. America Pageant she has been actively involved with the National Financial Educators Council to raise awareness and improve financial literacy among people of all ages, with a special focus on high school students.
"We are excited to feature Mrs. Arika Burton in the Public Service Announcement campaign because she is committed to the movement and has the educational background that positions her as an advocate and expert," states Cecil Abad of the NFEC. "The NFECs' financial education initiatives are gaining steam because of the support of the celebrities and high-profile influencers that are involved with our campaigns."
"The Mrs. DC America Organization takes pride in publicly recognizing community leaders for their achievements and passions. Mrs. Arika Burton is a relentless advocate for financial awareness, and we are proud to support her efforts with the NFEC to make a positive difference in our communities," says Raquel Riley Thomas, Executive Producer, Mrs. DC America.
The National Financial Educators Council raises awareness about the financial education movement through high-profile financial literacy events, celebrity partnerships and ongoing promotions. The awareness campaigns are designed to encourage parents, schools and community groups to teach children about money. The NFEC has served hundreds of organizations globally and is a leading advocate of the financial literacy movement.