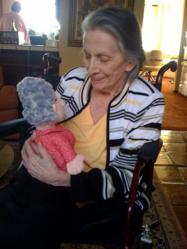 As the creator of Mrs. Pinkelmeyer, it warms my heart to see the impact she is having on children and adults.
Boca Raton, FL (Vocus/PRWEB) March 23, 2011
Families that have loved one's suffering from Alzheimer's struggle as they search for ways of re-connection. Doll therapy with Mrs Pinkelmeyer is proving effective in this area. "This was an unintended consequence when Mrs. Pinkelmeyer was created, Mrs. Pinkelmeyer was originally created to soothe a boy dealing with separation anxiety, but is now broadening her reach and touching the lives of those with special needs", says Jennifer Kelman, creator of the lovable character.
The advanced stages of Dementia or Alzheimer's can be particularly stressful but Mrs. Pinkelmeyer has shown an ability to provide safety and comfort in what can be a very scary time.
It has become apparent that Mrs. Pinkelmeyer is connecting to those with special needs and is able to provide the love and care that these wonderful individuals need. Doll therapy with Mrs. Pinkelmeyer is an extremely effective tool for people with Alzheimer's as it often triggers wonderful memories and elicits powerful emotions which can remind them of something familiar; themselves or someone else they have loved such as a grandmother or mother.
"My mother suffered from Dementia for three years prior to passing away in September 2010. In the last year of her life she had difficulty identifying people, including her family, and was often in a world of her own, detached from the reality around her. We tried to interest her in many different things including TV, games, stuffed toys, etc. Nothing held her attention or interest. On one of my visits, I brought her the Mrs. Pinkelmeyer doll hoping she would enjoy the song. Her reaction was quite extraordinary. She took hold of the doll and hugged her and stroked her head. She hugged and caressed her with a look of love and care on her face. She sat for hours with Mrs. Pinkelmeyer in her lap caressing her. She couldn't speak so she wasn't able to ask for her, but whenever I noticed that the doll was someplace else and brought her to my mother, she would immediately smile and take hold of her. This reaction was unique to Mrs. Pinkelmeyer. Prior to her decline she loved soft stuffed animals but these no longer held her attention. We were surprised and pleased, of course, with her reaction to Mrs. P. My mother made an extraordinary emotional connection to Mrs. Pinkelmeyer and that was very special." Marilyn Beck
Mrs. Pinkelmeyer is uniquely qualified to care for those with special needs. Her soft look and warm way instills a sense of safety to all that know her.
About Mrs. Pinkelmeyer
Entrepreneur and Author Jennifer Kelman created Mrs. Pinkelmeyer™, Silliest, Warmest Know-It-all™, from Poppingham, England and her furry brown dog, Moopus McGlinden™. Jennifer Kelman, who has a Master's degree in Social Work from New York University, was inspired to create Mrs. Pinkelmeyer after caring for her nephew when his parents were away. She has created a line of products that includes dolls, music, temporary tattoos and a children's book series based on Mrs. Pinkelmeyer.
For more information on Mrs. Pinkelmeyer please visit http://www.MrsPinkelmeyer.com and learn how Mrs. P. can enhance the lives of those with special needs.
###