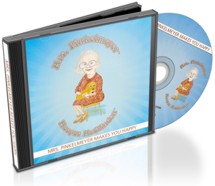 It is frightening putting your product out there to be reviewed, but without that kind of risk, there can be no reward. Winning the PTPA Seal of Approval is certainly the reward for all of the hard work that goes into creating a product.
Boca Raton, FL (Vocus/PRWEB) February 15, 2011
Consumers looking for high-quality products and services can rest assured when they see the PTPA Winner's Seal; it's evidence of product excellence as evaluated by unbiased parent consumers.
Mrs. Pinkelmeyer Music was among many entries from across North America competing to earn the PTPA™ Seal. Because independent parent volunteers evaluate these products in their own homes, PTPA winners are chosen based on merit and consumer experience – not on commercial considerations. As a result, the PTPA Media™ Seal has quickly gained recognition as an international leader in certifying consumer products for quality, effectiveness and value. Their CEO, Sharon Vinderine has appeared on over 40 morning shows as a reliable source for the latest and greatest in family products. The media and parents alike trust the collective opinion that PTPA Media represents.
Being honored with the influential Seal of Approval from PTPA Media Inc. is a huge achievement for a product geared to families, children or parents.
"At PTPA Media, we are proud to play a role in certifying innovative products that families can trust," says Sharon Vinderine, CEO and founder of PTPA Media Inc. "When consumers search for our Seal of Approval on product packaging, they are essentially searching for validation from their peers. Their peers will have objectively tested and approved these products based on their performance in a real life environment. That type of resource for families is priceless."
Mrs. Pinkelmeyer will be exhibited at the American International Toy Fair at the Jacob Javits Center in New York City, February 13th – 16th. Toy Fair is the largest international toy trade show in the Western Hemisphere where the newest and hottest products in the children's entertainment marketplace are exhibited. Visitors to the Toy Fair can meet Mrs. Pinkelmeyer and her lovable dog, Moopus McGlinden™ at booth #5746.
About Mrs. Pinkelmeyer
Entrepreneur and Author Jennifer Kelman created Mrs. Pinkelmeyer™, Silliest, Warmest Know-It-all™, from Poppingham, England and her furry brown dog, Moopus McGlinden™. Jennifer Kelman, who has a Master's degree in Social Work from New York University, was inspired to create Mrs. Pinkelmeyer after caring for her nephew when his parents were away. She has created a line of products that includes dolls, music, temporary tattoos and a children's book series based on Mrs. Pinkelmeyer.
For more information on Mrs.Pinkelmeyer visit http://www.mrspinkelmeyer.com
About PTPA Media Inc.
PTPA Media provides an objective framework for appraising and promoting new products designed to enrich family living. The company's mission is to marry innovative companies with discerning consumers, to improve consumer access to quality products and services for their families and homes.
PTPA Media Contact Information:
Sharon Vinderine, Tel: (905)738-1447 x.224 For more information visit http://www.ptpamedia.com.
# # #