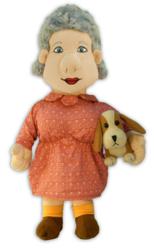 It is such a great feeling to have your passion and life's work featured on such a wonderful show.
West Palm Beach, FL (Vocus/PRWEB) April 05, 2011
Mrs. Pinkelmeyer and her lovable dog, Moopus McGlinden, share the spotlight while being featured on IMC Pictures "Spring Showcase" television show. Spring Showcase will air 30 times throughout the months of April and May, reaching approximately 38 million US households nationwide. The format of the show is designed to inform viewers of unique products and services and the companies that offer them.
Mrs. Pinkelmeyer's unique story of development was highlighted on the show as that is the driving force behind the Pinkelmeyer product line. The creator, Jennifer Kelman, developed Mrs. Pinkelmeyer while taking care of her Nephew while his parents were out of town. He was overcome with separation anxiety each night when his parents would call to check in. In a quick thinking move to soothe her inconsolable Nephew, Kelman used her imagination and brought Mrs. Pinkelmeyer to life. "I was such a nervous Aunt and thought he would never stop crying for his Mom and Dad, but then out of the blue, I created Mrs. Pinkelmeyer, British accent and all, and she came to our rescue."
Ever since then, Mrs. Pinkelmeyer has been delighting all that she meets including the host of "Spring Showcase", Elizabeth Ann Hart. "Spring Showcase" featured the award winning products including the Mrs. Pinkelmeyer and Moopus McGlinden Plush, Singing Doll, "Mrs. Pinkelmeyer Makes You Happy" music CD and the first in the Pinkelmeyer book series, "Mrs. Pinkelmeyer and Moopus McGlinden Burn the Rrrrump Rrrroast". Other items that were featured were the Mrs. Pinkelmeyer and Moopus bobble head, and a large Moopus McGlinden stuffed animal.
About Mrs. Pinkelmeyer:
Entrepreneur and Author Jennifer Kelman created Mrs. Pinkelmeyer™, Silliest, Warmest Know-It-all™, from Poppingham, England and her furry brown dog, Moopus McGlinden™. Jennifer Kelman, who has a Master's degree in Social Work from New York University, was inspired to create Mrs. Pinkelmeyer after caring for her nephew when his parents were away. She has created a line of products that includes dolls, music, temporary tattoos and a children's book series based on Mrs. Pinkelmeyer.
For more information on Mrs. Pinkelmeyer please visit http://www.MrsPinkelmeyer.com.
###