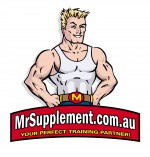 We were committed from the outset to redevelop the site to better provide our customers with quality content that will assist their nutrition, training and fitness goals
Sydney, Australia (PRWEB) May 13, 2011
MrSupplement.com.au has re-launched as Australia's first and only Bodybuilding Supplement "SuperSite". The new iteration of the website is significantly larger and more feature rich than previous versions. A significant investment has been made in developing a comprehensive bodybuilding articles section which includes hundreds of text and video guides on workouts and weight training, sports nutrition, supplements & motivation.
When questioned on the re-launch Director Greg Mate said "We were committed from the outset to redevelop the site to better provide our customers with quality content that will assist their nutrition, training and fitness goals."
Mr. Mate also went on to say "I feel we have surpassed these objectives, the new version of Mrsupplement.com.au provides an improved user experience, new articles section and maintains our huge product range."
MrSupplement.com.au is now one of Australia's fastest growing companies which today boasts the largest fitness community following of any Australian company on Facebook. MrSupplement offers a vast inventory of Australian and International brands including Muscletech, Gaspari Nutrition, BSN, Optimum Nutrition & Maxs Protein.
Established in 2004, MrSupplement.com.au has quickly grown into Australia's premier Bodybuilding Supplement retailer which offers Australia's lowest prices. As part of the launch, the MrSupplement is offering an opening promotion code special on its entire range as well as other fantastic give-aways.
###